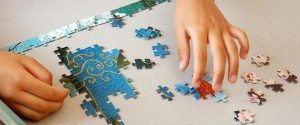 Breakthrough Study Reveals Biological Basis for Sensory Processing Disorders in Kids
Sensory Processing Disorder (SPD) is prevalent in those with an autism diagnosis; however, it's never been recognized as a distinct disease. In a new study from UC San Francisco, researchers have found that children affected with SPD have quantifiable differences in brain structure, for the first time showing a biological basis for the disease that sets it apart from other neurodevelopmental disorders.
One of the reasons SPD has been overlooked is because it has not been listed in the Diagnostic and Statistical Manual, now the DSM V, used by psychiatrists and psychologists. Sensory processing disorders affect 5 to 16 percent of school-aged children. Most people don't know how to treat children with SPD because they do not fall into a traditional clinical group. Understanding SPD can help these children who are falling through the cracks. To read more about this breakthrough study, click here.
Links Disclaimer: Autism Awareness Centre believes that education is the key to success in assisting individuals who have autism and related disorders.  While we do the best to ensure the accuracy of all information on our site, Autism Awareness Centre is not responsible for the accuracy and validity of the content linked to on external third party sites.