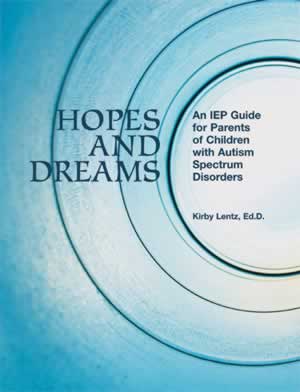 Hopes and Dreams: An IEP Guide for Parents of Children with Autism Spectrum Disorders
Author: Kirby Lentz
Publishing Info: 2004
Reviewed by Maureen Bennie : Director, Autism Awareness Centre Inc.
Author Kirby Lentz brings over 30 years of experience in education and administration for persons with developmental disabilities to this book which guides both parents and educators through the Individualized Educational Program (IEP) process. The guide, written primarily for parents, is a tool for building a relationship between parents and educators to share relevant information to construct an effective IEP. It also encourages collaboration between home, school, and the community for the life span success of individuals with autism spectrum disorders.
The chapters in the book follow a deliberate sequence starting with thinking about parenting a child with disabilities. Flashpoints listed on the first page of each chapter highlight the main topics covered in that particular chapter. Helpful sidebar statements throughout the chapters create opportunities for reflection about the ideas. All chapters end with a worksheet to be completed by the parents. These worksheets provide focus and clarity to what is needed to assist the child. The information gathered by parental reflection helps build a strong IEP. The blank worksheets are provided in the appendix and on a CD-ROM, which is included with the book.
Lentz begins with having parents getting in touch with their feelings around raising a child with disabilities by posing four questions and listing the responses to those questions in point form. There won't be parent that cannot relate to questions like "What has been the most difficult or frustrating issue you have faced as a parent?" Some responses are "overwhelming, don't know where to start, inclusion, fear, finding a doctors that know something about autism" and the list goes on. This is valuable reading for educators as it helps them see the issues parents face and the struggle involved in raising children with autism spectrum disorders. Understanding where the parents are coming from creates an open dialogue.
There is a chapter devoted to what the teachers think. Their answers to four questions are listed such as "What is missing?" The parents can see the frustrations and limitations teachers have to deal with. Knowing where the teacher is coming from helps the parents place reasonable requests. The school boundaries are made clearer.
A brief background about IEP's, how they came about and how they evolved over the past 30 years, is outlined. The worksheet exercise in this chapter is about recalling memories of past IEP's. This helps the parents remember what went wrong or well in past meetings and how the IEP experience can be improved upon.
Information about school evaluations and assessments is provided. This can be helpful for parents to see what types of testing instruments are employed, how evaluation results are used, and what issues and concerns parents might have with these evaluations. Lentz gives a point form list of common questions parents ask about assessments. The worksheet in this chapter has a place to record when tests were given, what type of test was administered, program recommendation, status, and modifications made for the test. This then becomes the handy reference document when the assessment discussion takes place or gives the opportunity to ask questions regarding the assessments.
The parent preparation chapter is comprised of four steps which will be used to construct the IEP: identifying learned skills, identifying emerging skills, identifying the child's likes and dislikes and developing outcomes. The first two steps have checklists provided or parents can make their own checklist under several suggested skill areas. The outcomes section is things parents or teachers want for the child or that the child wants for himself/herself. A case example is provided here with the long-term statement and a list of the short-term objectives to support that goal. Two case examples of the four-step process are provided so parents can see how this process unfolds.
Lentz examines the IEP meeting itself – what parents have to offer as a result of their preparation, when to speak on the agenda and the pros and cons of going first/last, how to present, and typical agenda items. A sample agenda is provided to take the guesswork out of how the meeting will unfold. The worksheet in this chapter is parental notes for the IEP presentation that will prepare the parent to make the best use of their presentation time.
There is a chapter about the three important rules for effective collaboration, which are respect time and commitments, everyone is an equal partner, and share to build relationships. Lentz tells parents how to best follow these rules to foster a cooperative environment. A united team where the members respect each other will create a strong IEP.
The final chapter of the book explores the school years and beyond. How will we foster positive transitions into the community from school and create self-advocacy for our children? It is suggested that transition planning begin at age 14 in order to get future agencies involved with the student and begin a relationship. Waiting until the age of 18 can mean getting on lengthy waiting lists for adult services. Encourage representatives from the adult agencies and post-secondary institutions to become involved with the child before he/she reaches 18 so that there is familiarity and an on-going relationship with the community. There are great suggestions for effective transition planning and who should be involved with the process. A chart is provided for transition contacts.
The Hopes and Dreams book is an excellent tool for helping parents become effective partners with the school and agencies in planning relevant IEP's. Educators can use this as a guide to help parents become more involved with the IEP process. Parents will find the worksheets and guidance this book provides helpful in taking the guesswork out of how to be an advocate for their child. Although the process does require a great deal of time, the outcome for the children will be worth it. This guide can be used for effective IEP planning for any child with a disability.
Visit our Bookstore to purchase Hopes and Dreams: An IEP Guide for Parents of Children with Autism Spectrum Disorders.
Editorial Policy: Autism Awareness Centre believes that education is the key to success in assisting individuals who have autism and related disorders. Autism Awareness Centre's mission is to ensure our extensive autism resource selection features the newest titles available in North America. Note that the information contained on this web site should not be used as a substitute for medical care and advice.