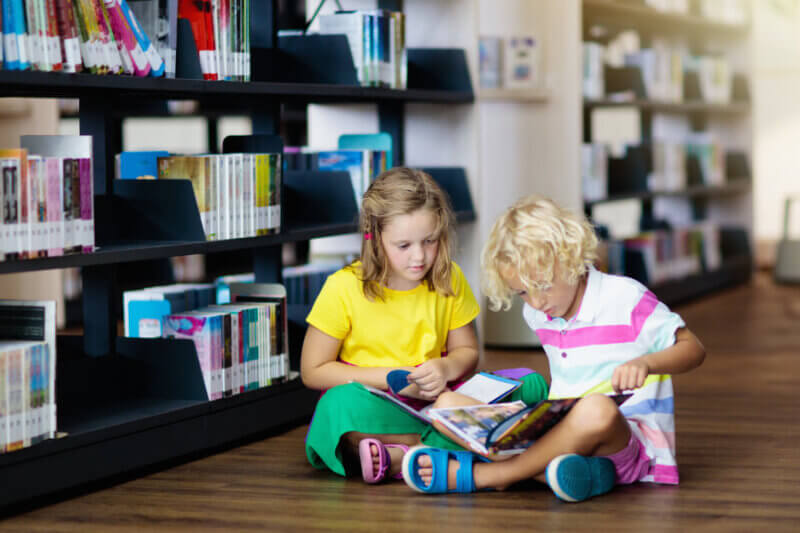 More than Just Books – Tapping into Your Local Library's Resources
Libraries are at the heart of communities. I feel grateful for our local library and all that they have to offer. Over the years, they have provided my two autistic children (now adults) with fantastic programs, work experience and a chance to discover all kinds of books and DVDs on a huge variety of topics. My daughter found her speaking voice through a library program called Story PALS where she read aloud to a dog once a week. My son became an avid reader during his high school years after having an incredible 2 year work experience program at the library, a program which gave him regular exposure to books and how they are categorized and grouped. He reads aloud to himself for at least 3 hours throughout the day, 7 days a week.
The library provides free access to all and offers many different services that you may not even know about. While services may vary from branch to branch or from urban to rural settings, librarians are there to help you find the answers to your questions and make recommendations.
Let's have a look at some of things a library can offer.
Accessibility
Most libraries in urban and town centers are located on a public transportation route so they can be accessed even if a person doesn't drive.
There are free home delivery services for patrons with mobility challenges. A mobility challenge is defined as an illness, injury or disability that prevents a person from visiting the library, carrying library materials or from leaving their home for a period of three months or longer. A home delivery service provides any circulating materials the library has available to loan, to your home to enjoy.
A print disability is one that prevents or inhibits a person from reading conventional print. This can be because of a:
learning disability
physical disability, such as the inability to hold or manipulate a book
visual disability, such as an impairment of sight or the inability to focus or move one's eyes
Resources to support a print disability can be found through the Centre for Equitable Library Access (CELA). CELA is Canada's comprehensive accessible reading service, providing books and other materials to Canadians with print disabilities in the formats of their choice in both English and French. They partner with member public libraries, offering a digital-only service for books, magazines and newspapers. CELA has a great blog with regularly updated content.
CELA has an Educator Access Program for K-12 and post-secondary educators who support students with print disabilities. To access the program, you have to have a library card from a CELA member library. CELA also offers regular webinar training on how to access what they have to offer and other topics such as accessible reading technologies used by library patrons with print disabilities including screen magnification, text to speech, braille displays, literacy support software, and accessible reading apps for mobile devices.
Many libraries also belong to the National Network for Equitable Library Service (NNELS).  They are a repository of content owned and sustained by Canadian public libraries. They work with international partners, libraries, readers, and publishers (particularly Canadian ones) to make copies of books in accessible formats available to readers in Canada who have print disabilities. Did you know that about 10% of Canadians may have a print disability, which limits people's ability to read in a traditional print format. Here is the list of participating libraries in this program.
Some libraries offer Special Services Cards for patrons with additional needs. This type of library card offers extended borrowing privileges. My children have this type of card which allows them to borrow materials for 6 weeks rather than just the standard 21 days which isn't always enough time to explore or read the materials. Ask a librarian about this type of card.
Public Spaces
Many library branches have public meeting spaces that you can reserve with your library card. Ranging from 10 to 50 people or more, these spaces are great for team meetings, activities, or group study.
The Vancouver Public Library has something called Inspiration Lab,  dedicated to digital creativity, collaboration and storytelling. Options include:
Recording – record professional quality audio and video
Digitize – convert photographs, audio cassettes, and video tapes into digital formats
Creating – edit images, audio tracks, and video clips or publish your own e-book
What a great opportunity to use professional equipment to create something digital without the expense of having to buy or rent the equipment or find a studio – and all accessible with a library card. Ask about digital space options at your local library.
Programs and Events
The library offers a wide range of programs and events suitable to different ages and catering to many interests. You can find book clubs, activities, stitching groups, author readings, technology training, career help, music concerts, storytime, games, writers in residence programs and so much more! Since COVID-19 began, many of these programs have moved online so it doesn't matter where your home branch is in a city.
Digital Libraries
Libraries subscribe to thousands of online books, audiobooks, magazine and newspaper articles, indexes, and other recreational and research resources. You can also stream movies, documentaries and TV shows or listen to music.
Unusual Things to Borrow
Your library may have more than just reading material and digital downloads to borrow. At some branches, you can book computers, iPads, PENPals, video game consoles, or musical instruments. Ask your branch about their loan options for non-book items.
Libraries are one of the great equal opportunity organizations, offering services, programs, and materials for free.  Having open access to learning resources, removing barriers, and offering additional support where it is needed allows for more people to expand their interests, enrich and enhance their lives. Check with your local library about changes to services during COVID-19 to avoid disappointment. I also want to note that while I wrote this post based on the offerings at Canadian libraries, many libraries in other countries will have similar offerings and programs under different names.
Editorial Policy: Autism Awareness Centre believes that education is the key to success in assisting individuals who have autism and related disorders. Autism Awareness Centre's mission is to ensure our extensive autism resource selection features the newest titles available in North America. Note that the information contained on this web site should not be used as a substitute for medical care and advice.