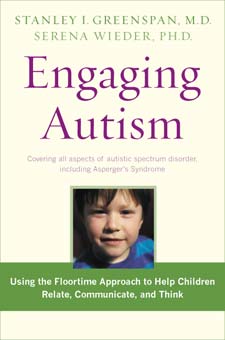 Engaging Autism: Using the Floortime Approach to Help Children Relate, Communicate, and Think
The inspiring success of Dr. Stanley Greenspan's unique approach to autism and ASD (autistic spectrum disorders) is known to grateful parents and to professionals throughout the world. Now at last his highly effective and influential program is presented in one clear and accessible volume. A number of innovative, exciting features distinguish Greenspan's approach to autism.
First, his program has demonstrated that children with signs of autism or autistic spectrum disorders do not have a fixed, limited potential, but in many cases can join their peers and lead full, healthy lives, emotionally and intellectually. Secondly, his approach can be applied at a very early stage, when signs of autism first appear. Thus, the hope of preventing the full onset of autism becomes a real possibility. Third, the approach empowers the entire family to promote their child's development throughout each day. Also, the DIR Floortime approach guides the efforts of speech pathologists, occupational therapists, and educators to work with the family and builds on the latest research on the development of the mind and brain.
As cases of autism continue to rise worldwide, Dr. Greenspan's extremely successful Floortime approach is producing very promising results that could one day stem the tide against this dread disorder. No one involved in the care of children with autism, parent or professional, can afford to be without this landmark work.