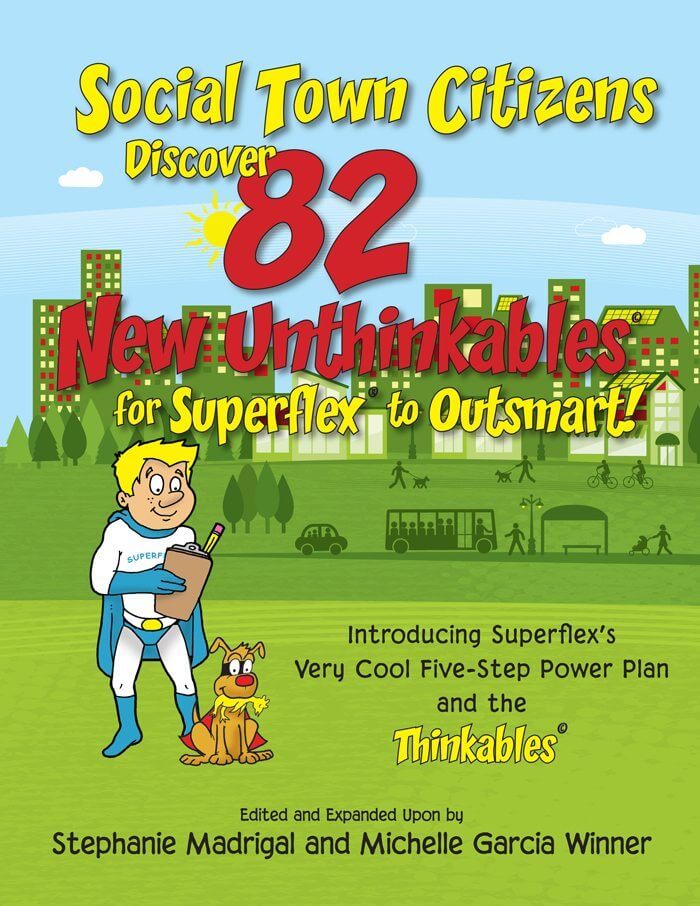 Social Town Citizens Discover 82 New Unthinkables for Superflex® to Outsmart!
This latest edition in the Superflex series is a compilation work that introduces 82 new Unthinkables and 14 new Thinkables submitted by Social Town citizens of all ages. Unthinkables and Thinkables are grouped by theme/category for easy reference by student or adult, and each entry includes the character's power, related information about its characteristics, and strategies to defeat the Unthinkable or bolster a Thinkable's help.
The focal point of the book is a brand new teaching strategy developed by Stephanie Madrigal and Michelle Garcia Winner called Superflex's Very Cool Five-Step Power Plan. It provides students with even more tools to strengthen their social processing. In the Power Plan, students learn about 5 critical powers: Decider, Social Detective, Brakester, Flex DoBody, and Cranium Coach.
Madrigal and Winner apply the Five-Step Plan to demonstrate flexible social thinking to each of the 14 original Unthinkables. They then go on to do the same with 46 of the new Unthinkables and Thinkables. Sixty teaching examples are included overall.
Once students learn the steps to the Power Plan, they can explore any of the characters in any order to help them learn more about themselves and the social thinking and behavioral regulation challenges they face. It is not expected that students or educators, counselors and parents become familiar with all 96 new characters. This is recommended for 3rd to 5th graders. Younger students with social thinking challenges often find the processing demands of the Superflex curriculum to be overwhelming, leading to a system shut-down. For this reason, it is recommended that educators, counselors and parents to be very cautious about who they use these new materials with if the student is younger than a 3rd grade classroom placement or is in a self-contained classroom. The authors never want any of their lessons to set a child up for further social regulation failure!