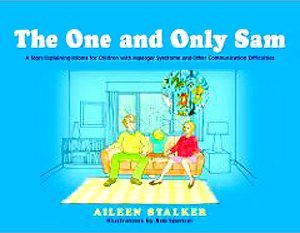 The One and Only Sam: A Story Explaining Idioms for Children with Asperger Syndrome and Other Communication Difficulties
The One and Only Sam is the story of a boy who, like many children, struggles to understand non-literal expressions. This can be a particular problem for children with Asperger Syndrome, who tend to be literal thinkers.
Throughout the story, Sam encounters a range of common idioms – such as "curiosity killed the cat," "on top of the world," and "full of beans" – each of which is accompanied by an illustration of its literal meaning and one depicting its actual meaning, helping children to explore what the idioms sound like and why they might mean what they do. The book also suggests simple steps that children can take whenever they encounter new and unfamiliar idioms that are not covered in the book. A glossary, and a list of additional books and websites, provides further resources to help children learn about idioms and their origins.
The One and Only Sam provides a fresh and fun approach to exploring common idioms for all children aged 5 to 8, as well as those with Asperger Syndrome and communication difficulties.