Tanzania Entry 1
Jambo!
We arrived safe and sound after a long and tiring flight. It is the end of the rainy season so there are major puddles on the dirt road in front of our hotel. On Sunday Kari and I walked to the Mwenga Village Museum (think Murphy's landing), a living museum demonstrating tribal village life from different areas around the country. We saw wonderful dancing, artists and crafts. Very charming.
Today is our third day at the school. There are four teachers and 5 aides for 15 children aged 5-18. Five of the children have autism. We started with PECS and have all 5 up and running. We have started schedules and will continue to build on those then add in work systems and partner play. We get to school at 8 (a two minutes walk) and work with the children from 9-1. We then eat lunch and work with the teachers until 5 pm. They are a dedicated bunch and we are getting to know each other quickly. I brought pictures of my family to show off today at lunch. We are venturing out a bit after school, finding pubs to unwind and discuss.
Kari is diligent about trying to learn Swahili and very brave about speaking. I try but everyone laughs at me. The national soccer team is staying at our hotel. Several of them, as well as the hotel staff, are contributing their efforts to helping us learn. Everyone is very friendly and helpful. I have learned to go up to people to try and ask them things because no one ever says they don't know or don't understand. They are compelled to stay with me until my problem is solved, even if it involves walking 6 blocks to take us there. We are having a great time and are laughing a lot.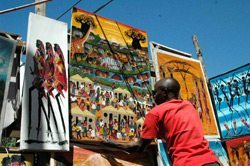 The Rough Guide travel book lied! They said travelers checks was the way to go. Not True! No one will take them and, of course, no one takes credit cards. Kari's ATM card is not working. Fortunately, one of the teachers here has an uncle who works at a bank who is helping us get money. Alia, one of the teachers, is our Roseanna of Tanzania. She has been our savior!
We are thinking we will travel to Zanzibar for the weekend. I will try and send some pictures. Take care. I miss you all but am having a wonderful adventure.
Joyce
Editorial Policy: Autism Awareness Centre believes that education is the key to success in assisting individuals who have autism and related disorders. Autism Awareness Centre's mission is to ensure our extensive autism resource selection features the newest titles available in North America. Note that the information contained on this web site should not be used as a substitute for medical care and advice.