Tanzania Entry 3
Jambo!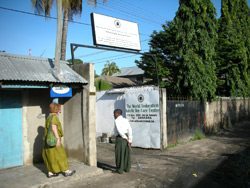 I forgot to tell you about the school. The program is housed in a residential neighborhood just down the road from our hotel. Mr. Chanadu meets us at our hotel as we are finishing our breakfast (peanut butter and jelly sandwich, coffee and a banana) and escorts us as we walk to school, dodging the puddles and passing school children, vendors selling fried donut-type balls and a woodworking shop.
We greet Babu (honored grandfather), the old man who guards the school gate, and enter the grounds. The children are driven to school by parents or family drivers. We have started schedules so the children now check in by moving their photograph to the In School board, hang up their things, take the playground symbol and head to the play yard. The school was once a private residence. It is a large concrete building, tiled in marble throughout. There is a central hall, dining room and kitchen off to one side. Mr. C's office and a LARGE entirely padded sensory room are also on the main floor. Poor Mr. C – the teachers (and us) have entirely taken over his office making materials, symbols, laminating and he doesn't seem to know what to do with himself.
The classrooms are upstairs. There are three huge classrooms, each with a master bath suite to die for, two small rooms and a large balcony. Unfortunately, they are not very well equipped with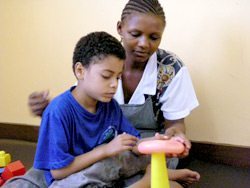 appropriately sized furniture or storage cabinets. They have some materials but have taken to the idea of minimizing distraction way too far so there is not enough for the children to do. Now that schedules and PECS are up and running, the plan for next week is to practice and make adaptations. We have also introduced the work system concept and will be making tasks next week. The teachers are pretty charged about all this. It is fun to work with them. Dr Abbas came to visit the school on Thursday for a photo opportunity and short chat about the presentation Kari will do next Saturday for the Autism Awareness Day. It is a fund raising event that I am sure will involve much confusing ceremonial activity. We are truly coming face to face with the hidden curriculum, frequently turning to each other after an event trying to figure out what just happened. We have learned to smile, nod our heads and say "Sama hani", an all purpose word to use in confusing social situations (please, I am sorry , excuse me, etc).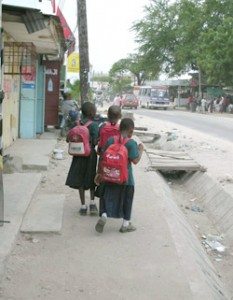 On Friday all of the children go to Alia's family home for the morning to play in the yard and splash in the pool. She sent her driver to pick us up. The teachers chatted and asked us questions about autism as the dada's played with the children. I was tickled to see that Ibu, one of the children we are focusing on, showed off for us in the pool. You know how difficult it is for me to learn names but I am slowly learning as their personalities emerge. Our charges are Ibu, Kalid, Jennifer, Steve and Prince. Kari stayed and visited while I went off with Alia's aunt Salma with our passports to get some money and our visas for Zanzibar. It was quite and adventure, nice to have her with me. I felt like I was a European landing at Ellis Island. A loud, busy, confusing, chaotic event that involved handing over my passport and money. I was happy to have Salma's guidance. Fortunately her brother runs a money exchange so we next went there, and over a cup of strong sweetened milky coffee, I walked away with 500,000 Ts ($500). We are loaded!
The first week in May is the last week of the rainy season. We have experienced it the last two days but fortunately it does not last all day. It did rain on Friday and since we were staying at Salma's for the night, Alia's driver used the Land Cruiser to drive us. After the rain the puddles were more like lakes and we passed many abandoned cars that had flooded, their owners leaving them on the road and walking home. Fortunately we did not have far to go. Salma and her husband live in a 4th floor apartment overlooking the Indian Ocean. It had a lovely view. We visited over dinner and slept to the sounds of the tide coming in.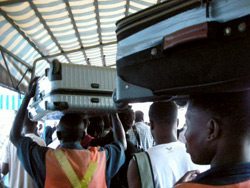 The trip to Zanzibar: Hussled off to the harbor with our bags and a sack lunch at 6:30 a.m. Two "porters" grabbed our bags and took off through the crowd towards the ferry. We followed them, finally retrieved our bags and then they tried to fleece us out of a 10,000Ts tip, each! Fortunately we had indoor, air-conditioned seats for the 2 hour ferry trip. We were entertained by an early, very early, Arnold Swartzenager film, I think called "Commando" – pretty funny. Pouring rain and rough seas the whole way. Much pushing and shoving on the way out and, needless to say, we kept a tight grip on our bags and turned down no less than 50 offers of taxi or tour as we found our hotel. Stone Town is amazing. The books note the narrow, crooked streets but it is one of those things you really have to experience for real. Enough for now. Tutaonana baadaye!
Editorial Policy: Autism Awareness Centre believes that education is the key to success in assisting individuals who have autism and related disorders. Autism Awareness Centre's mission is to ensure our extensive autism resource selection features the newest titles available in North America. Note that the information contained on this web site should not be used as a substitute for medical care and advice.