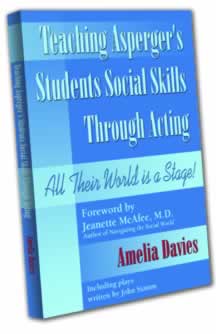 Teaching Asperger's Students Social Skills Through Acting: All Their World Is a Stage!
Author:
Amelia Davies, Foreword by Jeanette McAfee
Publishing Info:
Paperback 191 pages/ December 2004
To teach "the fine art of fitting in," Amelia Davies instructs anyone who has a sense of humor and the desire to give their kids "a healthy dose of self-esteem" how to utilize the dramatic arts to build social skills. She provides exercises, practical advice, scripts – just about anything that allows for the creation of a "wild and wacky theater games" group, which passes muster as an educational social skills class as well.