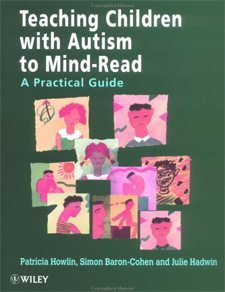 Teaching Children with Autism to Mind-Read: A Practical Guide for Teachers and Parents
The difficulties experienced by children with autism and related conditions in inferring the thoughts, beliefs, desires and intentions of others are well documented in numerous studies. It now seems that these deficits underlie many of the social and communication problems that are characteristic of autism. Teaching Children with Autism to Mind-Read explores the relationship of "theory of mind" deficits to other areas of children's functioning and describes existing experimental work that has attempted to enhance the skills associated with understanding others' minds.
Drawing on their own intervention programme, and providing detailed information about the teaching materials and strategies they use, the authors provide practical guidelines for helping children with autism spectrum conditions to improve their understanding of beliefs, emotions and pretence. The authors tackle specific problematic issues including:
how to interpret facial expressions
how to recognize feelings of anger, sadness, fear and happiness
how feelings are affected by what happens and what is expected to happen
how to see things from another person's perspective
how to understand another person's knowledge and beliefs
This easy-to-follow graded teaching guide is of particular relevance to special needs teachers, educational and clinical psychologists, speech and language therapists, and carers of children with autism spectrum conditions.