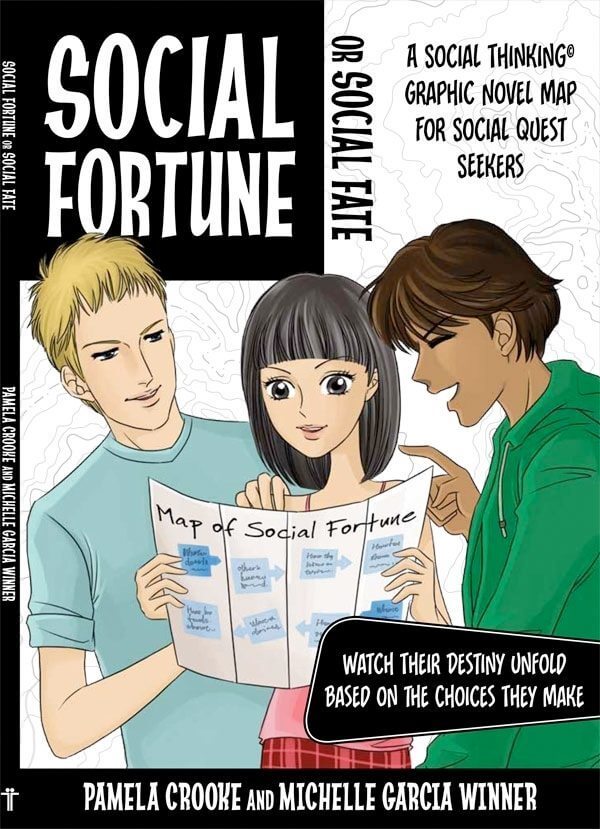 Social Fortune or Social Fate: A Social Thinking Graphic Novel Map for Social Quest Seekers
Author:
Michelle Garcia Winner and Pamela Crooke
Publishing Info:
Paperback 82 pages with extensive anime graphics / April 2011
Tags: Social Behavior Mapping.
Utilizing the anime illustrations to capture the attention of teens and tweens, this book has been developed to teach the core concepts related to Michelle Garcia Winner's Social Behavior Mapping (SBM). SBM's teach how our own behaviors, expected and unexpected, impact how others feel about us, ultimately treat us which then affects how we feel about ourselves.
The core of the book consists of 10 social scenarios, each one scenario is played out through the lens of Social Fortune or Social Fate by demonstrating visually how a situation can change quickly based on how someone reacts within it. Every scenario begins with a mini-story told through a four pictured comic strip which then leads the protagonist to a decision making point. If the decision made leads to others feeling good and ultimately the character feeling good about him or herself, this will be represented as "social fortune." However, if the protagonist makes a decision that traps him/her and peers/adults in an uncomfortable or frustrating situation, this leads to "social fate." The social fortune and social fate decisions are depicted through unique four-pictured comic strips.
Key concepts are explained in the teen friendly opening pages of each side of this book, to guide them to the teaching principals encouraged through the social fortune or fate behavior mapping. Once a student reviews the comic strip scenarios, they will also find Information which teaches about the scenario on the corresponding page. Strategy codes such as TAC (i.e. think about choices) or MARP (i.e. minimize a reaction to a problem) are taught to facilitate the decision making which lands the characters on the road to Social Fortune. Social autopsies are used to guide readers through a better understanding of the Social Fate scenarios.
Readers are also encouraged to explore their own emotional reactions to problems they consider more intense. It is expected that the older student demonstrate increasing emotional maturity by minimizing their emotional expression of perceived problems; an illustrated Problem Solving Thermometer helps to demonstrate this concept.
Unique Layout and Format Encourages Interaction, Reinforcement
In short, when you will receive this book, you will think ½ the text is printed upside down, but it is not! This book has two covers; one appears to be right side up, and the other appears to be upside down. The first cover depicts the Social Fortune side of the book; when the reader reads through the social fortune pages, they will find the first half of the book contains all information about pro-social choices to given social scenarios. If holding the book with the Social Fortune cover facing the reader; the reader will find when they turn the book over the back side of the cover appears up-side down. This is the Social Fate side, once rotated to appear right-side-up, the reader will see the text flows in the appropriate direction. Sounds confusing? This is a cool teaching method for teens; it is a playful way to point out two different points of view. We also have a hidden code hidden in the book; Embedded in each scenario is a hidden letter from the alphabet, which when located in the text and written into the code helps to identify the "words of wisdom."
Suitable for 7th Grade through High School. This book targets students with high language and cognition who are 14 years old through young adults. Some schools have included this in the curriculum for their intellectually advanced middle school students, however, there is a chapter on dating (not sexually explicit) that some may not want middle school students to read.