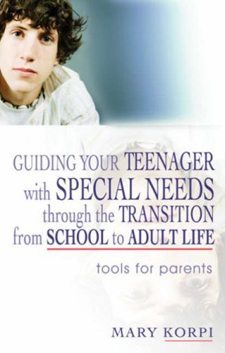 Guiding Your Teenager with Special Needs Through the Transition from School to Adult Life
When teenagers with special needs transition from school to adult life, both they and their families are faced with many new decisions and challenges. This book provides practical advice and valuable information to help families prepare themselves and their teenager for that transition, allowing it to happen as smoothly and seamlessly as possible.
Mary Korpi highlights the impact of moving from the special education system to the reality of adult life and employment and emphasises the need for young adults to develop self-advocacy skills by being included in all decisions and discussions about their future. The first part of the book focuses on specific techniques parents can incorporate into the family's everyday routines that will enhance the development of essential life skills. The second part provides families with vital information on programs and support services available to adults with special needs. It also stresses the importance of developing an effective transition plan to help the teenager explore avenues that are suitable to his or her personal goals and abilities.
An essential guide to this critical transition period, this book is invaluable reading for families of teenagers with disabilities who are preparing to move on from school life.