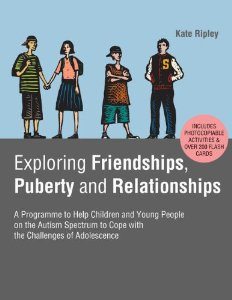 Exploring Friendships, Puberty and Relationships: A Programme to Help Children and Young People on the Autism Spectrum to Cope with the Challenges of Adolescence
This evidence-based programme is designed to help young people on the autism spectrum to cope with the many challenges of adolescence. It encourages them to explore their identity, develop their friendships and to begin to think more about adult relationships, tackling the important related issues of puberty, sexuality, gender identity, body image, dress codes, self-care, safety and conventions for touching along the way. Designed to be used either as a 30-consecutive-session programme or to be dipped into as particular issues arise, it contains engaging lesson plans, supplementary activities, take-home tasks, group discussion points and over 200 cut-out-and-use flash cards.
This is a vital teaching resource for educators, educational psychologists and other professionals working with children aged 11+ with ASDs in special education and mainstream settings.