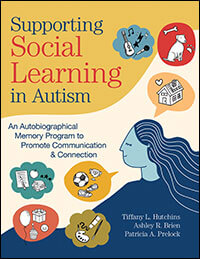 Supporting Social Learning in Autism – An Autobiographical Memory Program to Promote Communication & Connection
Author:
Tiffany L. Hutchins, Ph.D., Ashley R. Brien, Ph.D., CCC-SLP, Patricia A. Prelock, Ph.D., CCC-SLP, BCS-CL
Publishing Info:
Paperback 272 pages / 2023
Tags: autobiographical memory, social communication, social learning, Social Skills, strengths-based approach.
Autobiographical memory (ABM)—the type of long-term memory that holds information about ourselves and our past experiences—is key to social learning and social communication. This groundbreaking guide shows professionals how to support ABM in children and adolescents on the autism spectrum, leading to lasting enhancements to critical social skills.
A natural, strengths-based approach to autism intervention, this unique program is about promoting authentic connections by facilitating memory—not encouraging a specific set of behaviors or changing autistic habits of cognition. Ideal for speech-language pathologists and other practitioners, this book offers detailed guidance on how to assess ABM needs and implement activities that help autistic individuals encode and retrieve memories that aid in social learning. Professionals will get step-by-step instructions on using adaptable, person-centered techniques such as elaborative reminiscing, memory making activities, episodic memory draw-talks, and life stories.
An innovative and practical guide that honors neurodiversity, this program empowers children to tap into and create meaning from their past experiences—and use those memories to plan, problem-solve, and form positive connections with others.
Why This Program?
Helps neurotypical and autistic children and adolescents develop memory retrieval and discourse strategies critical for academic and social success
Evidence aligned—translates pioneering research into ready-to-use intervention strategies and activities
Client centered—honors the child's interests and follows their lead without prescribing scripts or rules
Adaptable for a wide range of intervention settings—home, school, and community
Developed by highly respected experts on autism and communication
Customizable to meet the needs of the individual
PRACTICAL MATERIALS: Professionals will get downloadable assessment and intervention forms, clear scope and sequences they can easily replicate, and handouts and worksheets to share with families so they can use the techniques at home.