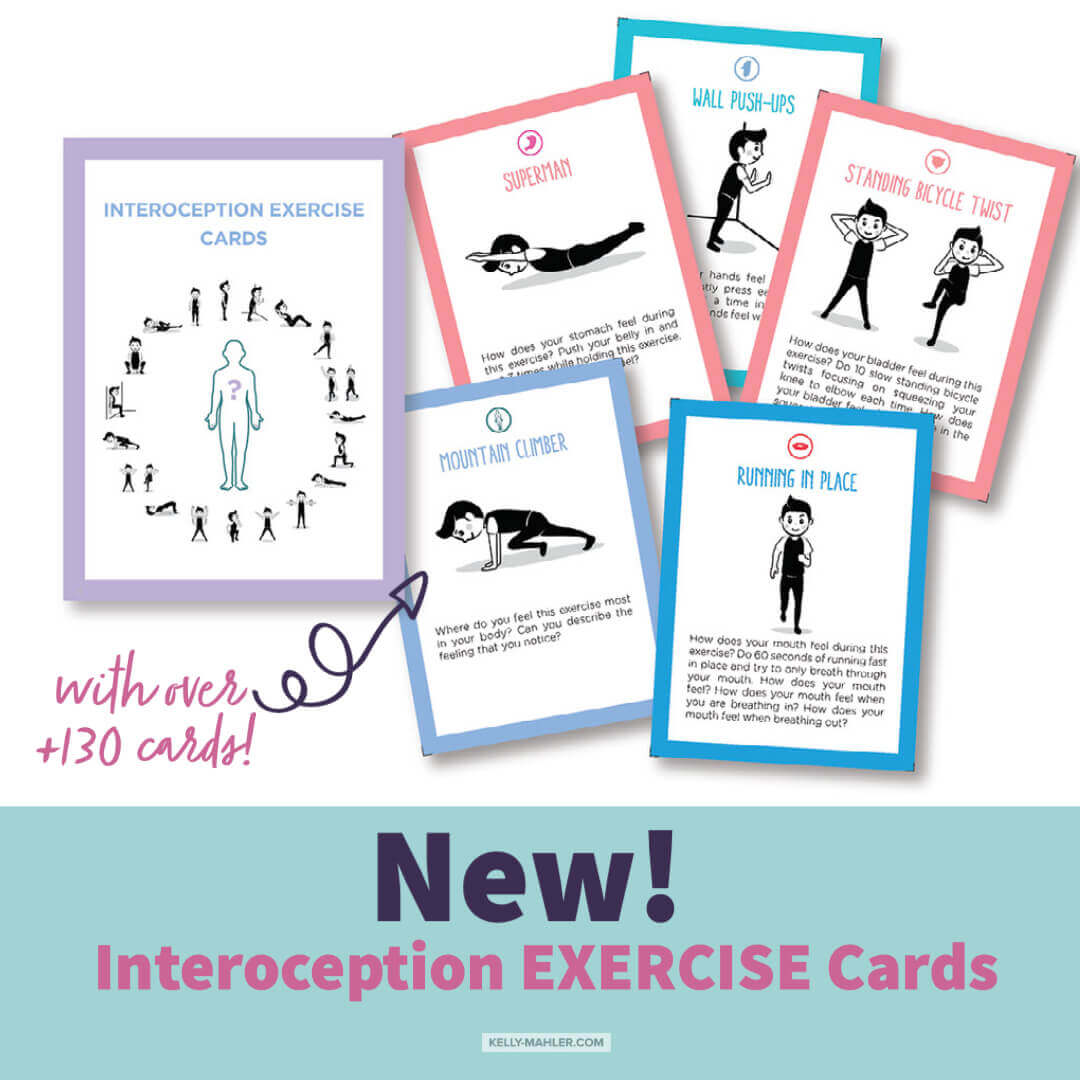 Interoception Exercise Cards
Turn traditional exercises into explicit interoceptive awareness builders! The Interoception Exercise Cards are a series of 124 cards that provide guided prompt(s) for noticing the interoceptive body signals that arise while doing a specific exercise like Sit-Ups or Jumping Jacks. If you are looking for creative, fun and evidence-based activities to enhance interoceptive awareness in the clients you serve, these cards are for you!
What are the Interoception Exercise Cards?
You might know that enhancing interoceptive awareness is good for all people, including your clients, but it can be confusing to know what exactly what to do, where to start, and/or how to do it.  The Interoception Exercise Cards provide you with an evidence-based strategy for helping your clients connect to their oh-so-important body signals. The cards are best used as a positive practice strategy within the comprehensive framework provided in The Interoception Curriculum, however, they may be used as a standalone strategy as well.
How are the Interoception Exercise Cards different from traditional Exercise Cards?
Traditional exercise cards typically focus on the act of doing an exercise, encouraging a learner to engage in an exercise or series of exercises. The Interoception Exercise Cards also encourage a learner to engage in an exercise, but the emphasis is on noticing the way various body parts feel during each exercise. Thus, there is a direct focus on tuning into the interoceptive body sensations that arise during each exercise. This structured, explicit process of guiding a learner's attention to the way the body feels is an important aspect of building interoceptive awareness.
Who can I use the Interoception Exercise Cards with?
Everyone: Building interoception is good for all of us. Use them for your own self-care!
Ages: A variety of ages from preschool through adulthood.
Conditions/diagnoses: A variety of conditions/diagnoses including autism, ADHD, trauma history, anxiety, depression, eating disorders, etc.
Cognition: The cards can be adapted for use with a variety of learning styles and needs. For example, use the cards with the exercises that are easier to imitate from a motor standpoint. Also, use the cards that contain exercises for noticing body parts on the outside of the body first (e.g., how do your hands feel?). The outside body parts can be more concrete than noticing the way that body parts on the inside of your body feel (e.g., stomach or heart).
Communication: The cards can be adapted for use with a variety of communication styles. For example, if using the cards with a learner that does not speak to communicate, use the Descriptor Menus from The Interoception Curriculum to help the learner find/point to words to describe what they experience. Or provide a copy of the Body Check Ring which can be a helpful and compact visual and communication support to use in conjunction with The Interoception Exercise Cards. Or finally, a response is not required. Use the exercise and prompts on the cards to guide the learner to notice how their hands feel without requiring a response.
Where can the Interoception Exercise Cards Be Used?
The Interoception Exercise Cards can be used in any location that would be considered a safe and comfortable location for Exercise practice. This can include a variety of settings such as schools, occupational therapy clinics, mental health facilities, and exercise studios. The cards can be easily implemented in a one-on-one session, small group, whole family, and/or large class setting.
How can the Interoception Exercise Cards Be Used to Support The Interoception Curriculum?
The Interoception Exercise Cards are designed to be used in conjunction with The Interoception Curriculum in order to maximize a learner's interoception growth. Consistent with the lessons in Section 1 of the curriculum, each Interoception Exercise Card focuses on noticing body signals within one body part at a time. For ease of use, the bonus Instructional Booklet that comes with purchase of The Interoception Exercise cards provides a table that outlines each pose and the body part(s) of focus. It is recommended to pull the Interoception Exercise Cards that are a match for the body part lesson that is being used. Use the pulled cards after the lesson as an additional positive practice opportunity for noticing and describing body signals.
Want even more interoception ideas? Check out the Interoception Yoga Cards that transform traditional exercises like Downward Facing Dog, Cobra and Child's Pose into explicit interoceptive awareness builders.
Bonus!: The cards come with a free Instructional Booklet that provides 8-pages of tips for maximizing the successful implementation of the cards with clients of a variety of ages and learning styles.