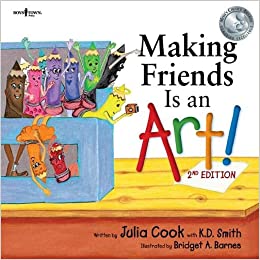 Making Friends Is an Art! A Children's Book on Making Friends – 2nd. Edition
Children who struggle with making and keeping friends often experience mental health problems such as anxiety and depression. They are also more likely to get into trouble and drop out of school. This second edition of Making Friends Is an Art! is an inspirational friendship tale that follows a colored pencil named Brown. Multi-talented Brown is the luckiest pencil in the box! In this story, Brown learns that in order to make and keep friends, he needs to know how to be a good friend.
Brown must find a way to share his many talents with others. At first, that seems hard, but soon Brown realizes that to be a good friend, all he has to do is be himself! And to share all his special talents, like listening to others, being trustworthy, honest, and kind, and to have fun.
Included are tips for parents, counselors, and educators to help kids recognize their talents and be true to themselves.
Suitable for ages 4 – 7.