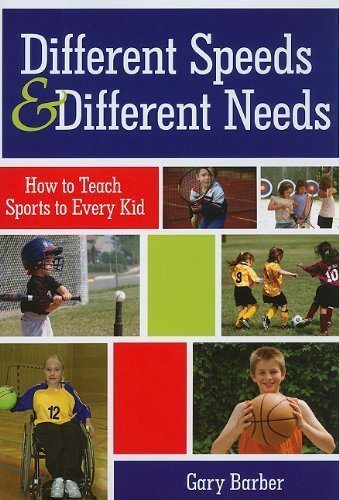 Different Speeds and Different Needs: How to Teach Sports to Every Kid
Involvement in sports can be an empowering and enriching experience for all children. But how can children with different learning needs and physical abilities break through barriers and stereotypes on the playing field to find acceptance and success? This comprehensive guide shows K–12 teachers and coaches how to establish, revamp, and sustain inclusive sports programs that benefit students with a wide range of special needs and challenges.
Drawing on the most current research and best practices in education and social-emotional development, this book empowers readers to recognize their students' unique strengths and challenges and provide appropriate encouragement and support. Teachers and coaches working in educational and community recreation settings will learn how to
create sports environments where all children thrive
assess emotional and social competence to ensure that children are ready for sports
change attitudes that inhibit participation or make a child feel excluded
promote good sportsmanship to enhance character development of children with or without disabilities
use universal design principles to teach sports to people with different needs
become more effective coaches by following essential tips and examples and avoiding common coaching pitfalls
Each chapter ends with a 4-part checklist that helps readers immediately put the suggested strategies to use, and abundant illustrative examples and insightful quotes from children, parents, and coaches bring the book's powerful message to life.
With this positive, motivating book—written by an expert who's also the father of two children with autism—teachers and coaches will have the clear guidance they need to develop inclusive sports programs where all children join in the fun.