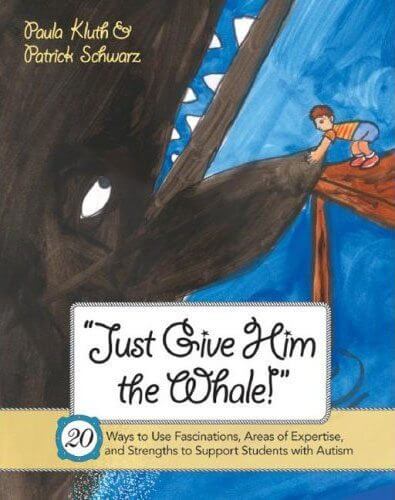 "Just Give Him the Whale!": 20 Ways to Use Fascinations, Areas of Expertise, and Strengths to Support Students with Autism
When learners with autism have deep, consuming fascinations—trains, triangles, basketballs, whales—teachers often wonder what to do. This concise, highly practical guidebook gives educators across grade levels a powerful new way to think about students' "obsessions": as positive teaching tools that calm, motivate, and improve learning.Written by top autism experts and nationally renowned speakers Paula Kluth and Patrick Schwarz, this guide is brimming with easy tips and strategies for folding students' special interests, strengths, and areas of expertise into classroom lessons and routines. Teachers will discover how making the most of fascinations can help their students
learn standards-based academic content
boost literacy learning and mathematics skills
develop social connections
expand communication skills
minimize anxiety
and much more
Just Give Him the Whale! is packed from start to finish with unforgettable stories based on the authors' experience, firsthand perspectives from people with autism themselves, research-based recommendations that are easy to use right away, and sample forms teachers can adapt for use in their own classrooms. An enjoyable read with an eye-opening message, this short book will have a long-lasting impact on teachers' understanding of autism—and on their students' social and academic success.
Reviewed by Maureen Bennie
Director, Autism Awareness Centre Inc.
Motivation is a key tool for wanting to acquire new information and attending to a task. Most of us will devote more time and energy to something that interests us rather than a task that we are told to do. We are more apt to pursue or stay with something that interests us.Individuals with autism spectrum disorder (ASD) have fascinations or special interests that are motivators. These may be unusual and not shared by many people. Incorporating special interests when working with students can motivate, engage, sustain interest, and become a meaningful way to relate to them. Too often educators are bound by a set curriculum, a teaching method, professional and personal goals, and a personal experience of what is meaningful in learning and the special interest is ignored or discouraged. The special interests of the person with ASD are not incorporated, dismissed or used as a reward. There can be a fear or concern that the special interest may take over in a teaching situation or impede the learning process.Authors Paula Kluth and Patrick Schwarz have written an excellent book that lists 20 ways in which to use fascinations and areas of expertise to support students with autism. "Just Give Him the Whale!" was written for educators but this book has a wider application to anyone who works with an individual on the spectrum. The 20 mini- chapters highlight how to use a special interest within the context of social skills, academics, and building self-esteem.
Each mini-chapter opens with one or two examples of using a students' strength to achieve a goal, then gives three additional ideas to incorporate the student's special interest within the goal. Icons make for an easy-to-follow format – the whale indicates student examples, the starfish highlights real life experience quotes, and the captain's wheel points to additional ideas. The student examples cover a wide range of ages.This book gives great ideas on how to use student strengths without an overwhelming text to wade through. It acts as a guide on how to effectively use the special interest. Concrete, real-life student examples provide inspiration to motivate students and make learning meaningful for them.