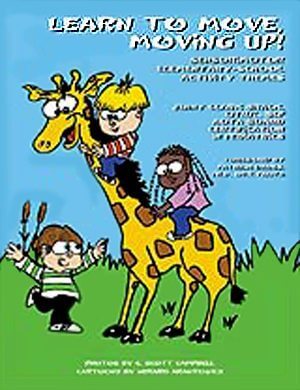 Learn to Move, Moving Up! Sensorimotor Elementary-School Activity Themes
Jenny Clark Brack is back with a new book! Following the same structure and philosophy as her first book, Learn to Move, Move to Learn: Sensorimotor Early Childhood Activity Themes, her latest, Learn to Move, Moving Up! focuses on elementary-school age students with sensory processing disorders.
In a comprehensive introduction that covers current trends in education and occupational therapy, the book overviews many evidence-based practices as well as yoga, music, and Speed Stacks. Throughout, the emphasis is on involving the child's team for the best possible outcomes.
The centerpiece of the book consists of 30 sensorimotor, theme-based lesson plans that include literacy and curriculum suggestions for teachers, and suggests ways that they can be incorporated into busy elementary school schedules and environments. As in Brack's first book, the carefully developed lesson plans offer activities structured around seven elements designed for both learning and fun: Warm-Up, Vestibular, Proprioception, Balance, Eye-Hand Coordination, Cool-Down and Fine Motor.