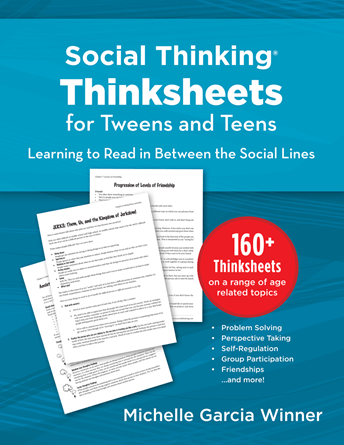 Social Thinking® Thinksheets for Tweens and Teens: Learning to Read in Between the Social Lines
Social Thinking Worksheets for Tweens and Teens, has a new name: Social Thinking Thinksheets for Tweens and Teens. It's the same great content, now with a new title and cover.
Thinksheets for Tweens and Teens focuses on the social issues and challenges faced by pre-adolescents and adolescents and introduces social concepts and strategies that can help individuals navigate these tricky years. Social rules and expectations change with age; thinking and behavior that was appropriate in elementary school can quickly become inappropriate and unexpected as students move into middle and high school. We developed these thinksheets to help educators, therapists, and parents encourage more mature social thinking and related shifts in their students' social skills.
The thinksheets explore a wide range of topics, starting with the basic Social Thinking understanding of the Four Steps of Communication, to exploring the hidden rules of the classroom and when is it okay to correct others. Chapters include What Is Social Communication?, Problem Solving, Lessons on Emotions, Different Perspectives, Being Bossy and Jerky, Lessons on Friendships, The Social Fake and Other Tricks, and Participating in Groups.
Material in this book may be used by older students who are less mature or who learn this type of information more slowly.
The Goal of Social Thinking Thinksheets
Thinksheets are powerful tools to help our students focus cognitively on core concepts related to social functioning. We often start a treatment or classroom session with a thinksheet to help our students hone in on specific social concepts in a manner that encourages personal thought, insight, and ultimately group discussion. We use the knowledge inspired by the thinksheet topic to then more closely explore how this type of thinking is reflected in our social behavior (social skills) and which behaviors we need to monitor or practice to be considered a more competent social communicator and social participant.
The goal of Social Thinking teachings is to provide students with honest, thoughtful information to help them better understand how our social minds really work. This, in turn, gives them a better chance of figuring out the social code and related social behaviors for themselves. Many educators have found that while the thinksheets were developed for students with social learning challenges, many of the topics and related content in the thinksheets will benefit virtually all students in the mainstream.
The two Thinksheets books are easily used by parents, paraprofessionals, or professionals. Thinksheets are designed to help guide the thinking of both the teacher and the student in working together to better understand social issues and social challenges. We recommend that adults take their time when using the thinksheets with students to allow them to explore the concepts thoughtfully and in a manner that reinforces learning. The thinksheets can be used as is, modified to better suit an individual student's learning needs, or used as a springboard to develop your own thinksheets. We encourage creative and flexible uses of these materials in helping individuals become stronger social thinkers and social problem solvers.
Suitable for ages 10 – 14.