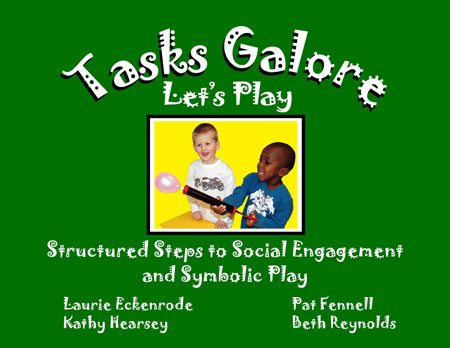 Tasks Galore: Let's Play
Author:
Laurie Eckenrode, Pat Fennell, Kathy Hearse, Beth Reynolds
Publishing Info:
Spiral Bound 133 pages/ August 2009
Tags: play skills, TEACCH.
Tasks Galore Let's Play, the fourth book in the popular resource series for parents, teachers, and therapists, utilizes play as the program for learning. There is more and more evidence that direct teaching of play skills can increase young children's symbolic understanding and, thus, have an impact on their imitation, language, and social skills.
Beautiful color photographs of children at play depict tasks that the authors have implemented successfully to enhance their students' toy play, flexibility, and social interactions. Printable visual supports that will generalize to multiple learning situations also are included.
Chapters demonstrate how routines, organizational strategies, and visual cues make play more understandable, so students can:
share enjoyment
use toys appropriately
manage play times
make and end choices
pretend, and
play with peers
.