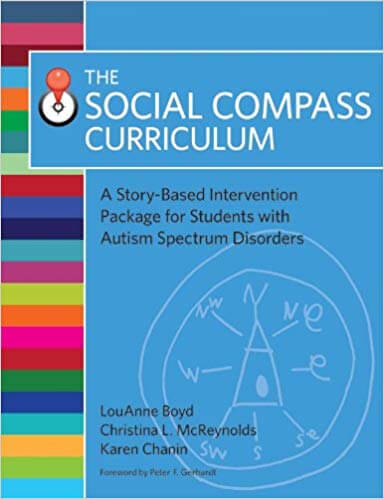 The Social Compass Curriculum – A Story-Based Intervention Package for Students with Autism Spectrum Disorders
Children with autism learn social skills best in group settings where they can practice everyday interactions with peers. Now there's a highly effective, ready-to-use curriculum educators can use to explicitly teach social skills right in the classroom! Ideal for Grades 4-8 but easily adaptable for use with older children, this social skills intervention curriculum gives educators 24 lessons that help students with autism make progress in areas critical to social success. Each step-by-step lesson gives students a social story that models a key skill; worksheets that reinforce takeaway points; a simple, memorable icon that helps them remember what to do; opportunities to role-play and rehearse the skill; and take-home worksheets to ensure generalization in settings outside of school.
Why Use The Social Compass Curriculum?
Helps students make progress in 4 key areas: nonverbal communication; emotion; social problem solving, and "we" skills for effective conversation
Field-tested over 10 years with more than 300 students, with significant positive results
Teaches and reinforces social skills with clear directions and visual supports
Gives students repeated opportunities to role-play and rehearse social skills with their peers
Flexible—lets the teacher go back and review areas where students are struggling
Lessons take just 20-40 minutes
Based on evidence-based practices such as ABA, visual and peer supports, and Social Stories™
Ensures generalization of new skills with activity worksheets to use at home
PRACTICAL MATERIALS: In-class and take-home worksheets, flashcards and handouts that reinforce skills, and a full-color quick-reference poster of the social compass icons.
Helps students develop key social skills like:
Interpreting body language
Dealing with teasing
Building empathy
Using self-control
Accepting change
Paying attention
Initiating a conversation
Sharing information
Negotiating needs
Avoiding being left out
Expanding personal interests
and more!