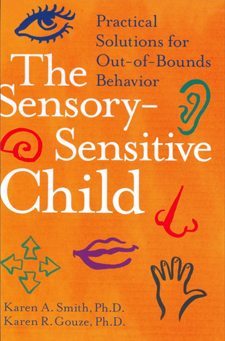 The Sensory-Sensitive Child
Two psychologists and mothers elucidate a problem that may affect as many as 10 to 20% of children.
Children with sensory regulation problems overreact or under react to sensory experiences most of us take in stride. The resulting behaviour–battles over dressing, bathing, and toothbrushing; inability to function in a busy classroom; intolerance of holidays, sleepovers, sports, and other social situations–causes chaos and heartbreak. This problem is not well understood by many professionals treating children today: many childhood psychiatric disorders may have an unidentified sensory component.
Drs. Smith and Gouze, practicing psychologists and parents of children with sensory processing difficulties, explain how to recognize and treat this problem, and how to help these children succeed at home, at school, and with peers. Practical, compassionate, and field-tested by the authors as parents and professionals, this book is likely to be life-changing for many families.