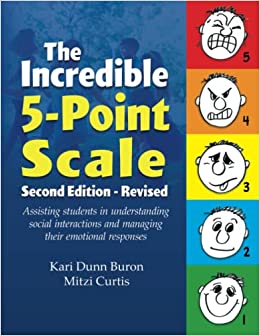 The Incredible 5-Point Scale – Assisting Students with Autism Spectrum Disorders in Understanding Social Interactions and Controlling Their Emotional Responses. 2nd. Edition – Revised
The Incredible 5-Point Scale has sold hundreds of thousands of copies worldwide and has been used by educators, psychologists, therapists and parents to teach the social and emotional concepts needed for successful social interaction and emotional regulation.
In this revised edition, readers will benefit from work done with the scales over the past 20 years. These refinements now include new scales specifically designed for two groups of individuals: young children and those with more classic presentations of autism, including expanded use of the Anxiety Curve.
This much-awaited, revised edition includes:
A new section expanding on the usage of the Anxiety Curve Model
Supplemental information for its use with special educational teams
Expanded information about diverse student populations
Examples of scales are included showing usage with young children and those with limited communication skills
Examples illustrate scales used with elementary school age children, adolescents and young adults
Goals and objectives for using the scale in an IEP
As in their other writings, the authors emphasize the importance of self-management and self-regulation, two evidence-based practices. Free online downloadable content from the author's website includes blank scales, small portable scales and worksheets for easy duplication.
Buy now to start implementing the 5-Point Scale in your classroom or home today!