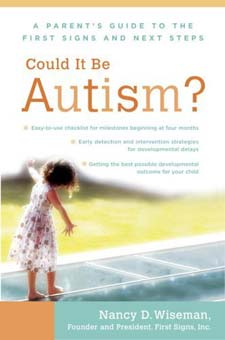 Could It Be Autism? A Parent's Guide to the First Signs and Next Steps
Nancy Wiseman is the founder and president of First Signs, the organization dedicated to educating parents, clinicians, and physicians on the early identification of and intervention for developmental delays. She is also the mother of a child who was diagnosed with autism at the age of two, and she draws on her own experiences as well as the latest research to present real strategies. Emphasizing warning signs, she describes the most important milestones at each stage of a child's growth, including things parents and pediatricians often overlook. She also empowers parents to act on their instincts and initial concern, rather than to "wait and see," which is often encouraged.
The book explains the steps parents can take to confirm or rule out a developmental delay or disorder. It details various diagnoses and show how sometimes multiple diagnoses may apply. But even more valuable is the information on how to design and implement the best intervention plan based on a child's unique developmental profile. Different treatments and therapies are outlined so parents can explore and understand what may work best for their child, based on his or her particular strengths and weaknesses.
Ultimately, Could It Be Autism? is about giving parents hope–hope that they can know one way or the other where their child is developmentally and hope that they can give their child what he or she needs to have the best life possible.