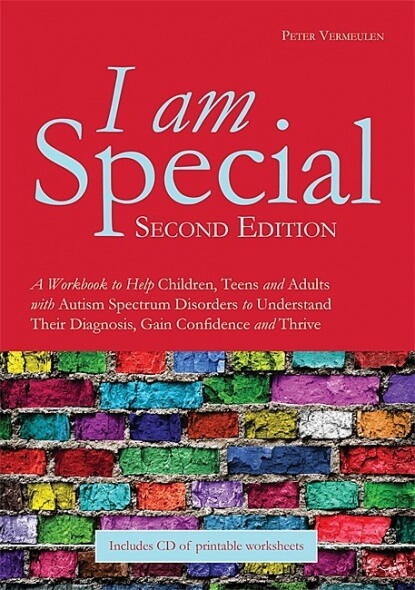 I am Special – A Workbook to Help Children, Teens and Adults with Autism Spectrum Disorders to Understand Their Diagnosis, Gain Confidence and Thrive
I am Special is a proven program for helping children, teens and adults on the autism spectrum to understand themselves and their diagnosis, gain confidence and thrive.
Peter Vermeulen describes in-depth the theory and research behind the program, and explains how to use it in practice. He presents a series of specially-designed worksheets, included as online downloadable content in a handy printable format, on a wide range of topics, including how the brain works, physical characteristics, likes and dislikes, sensory issues, strengths and weaknesses, learning preferences, relationships and plans for the future. When completed, the worksheets can be used to build up a unique and personal book about the individual on the autism spectrum, to help foster self-understanding and self-confidence. For the very first time, the program presented in this second edition is suitable for use with teens and adults as well as children, and also contains helpful interactive material for siblings.
This is a unique resource for all those involved in supporting children, teens and adults on the autism spectrum, including teachers, psychologists, counsellors as well as parents and carers.