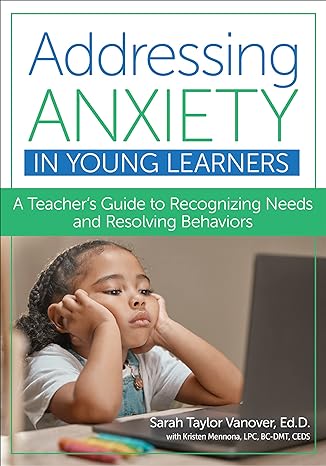 Addressing Anxiety in Young Learners – A Teacher's Guide to Recognizing Needs and Resolving Behaviors
Anxiety rates are skyrocketing among young learners—and their teachers need explicit training on how to understand and support these students. A concise, reader‐friendly guide written especially for teachers, this urgently needed book will prepare early educators to recognize anxiety issues in children ages 3–8, identify the associated behaviors, and work effectively with students who have anxiety symptoms.
Teachers will start with a well‐organized primer on the different types of anxiety in children, featuring symptoms, causes, triggers, treatment options, and case stories. Then they'll get expert guidance on addressing anxiety and challenging behaviors in the classroom, with dedicated chapters on key topics like assessment, intervention, and the parents' experience.
Ideal for both preservice and in‐service professional development, this introductory guide gives teachers the accessible information they need to understand learners with anxiety and support their success inside and outside the classroom.
TEACHERS WILL:
-Explore seven types of childhood anxiety: generalized anxiety disorder, separation anxiety disorder, social anxiety, selective mutism, OCD, phobias, and anxiety rooted in childhood trauma
-Review the assessment and evaluation process, and understand the role a teacher should play
-Recognize co‐morbidities with anxiety—including ADHD, autism, and depression—and how they may affect a child's symptoms and treatment plan
-Understand the issues and emotions parents face, so that teachers can offer them sensitive support
-Use effective classroom interventions to meet the needs of children with anxiety and create a nurturing learning environment
-Learn which strategies to avoid, from unrealistic expectations to excessive reassurance