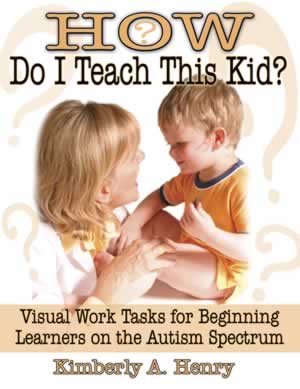 How Do I Teach This Kid? Visual Work Tasks for Beginning Learners on the Autism Spectrum
How Do I Teach This Kid? is a visual work for beginning learners on the autism spectrum is the first in a series of books designed to share ideas for using visual strategies to teach. It contains over 82 different work tasks to teach students to work independently and for an established length of time. There are classroom and home tested ideas in six categories: sorting, matching, reading, writing, mathematics, and motor tasks designed for children 2 to 10 years.
How Do I Teach This Kid? Visual Work Tasks for Beginning Learners on the Autism Spectrum By Kimberley A. Henry
Reviewed by Maureen Bennie
Director, Autism Awareness Centre Inc.
Teaching young children on the autism spectrum presents special challenges. Kimberley Henry, special educator, recognizes these learning challenges and addresses them in her new book How Do I Teach This Kid? Visual Work Tasks for Beginning Learners on the Autism Spectrum. Over 80 teaching tasks, designed to increase independent work skills, use a visual and hands-on approach. The visual work task system can be used by anyone teaching a child to become more independent such as teachers, parents and home-based therapists. The teaching tasks can be used with preschoolers to adolescents, depending on their developmental skill level, and can be incorporated into the inclusive classroom. Using the visual work system allows students to work independently for a sustained period of time.
The teaching concepts presented in the book are divided into motor, matching, sorting, reading, writing and math tasks. The tasks move in a logical progression, building skills in a sequential fashion. For example you cannot teach basic math skills if the child cannot sort objects by a given criteria. Each task requires a task box, which are single, organized activities with a clear beginning and an end. The tasks materials are presented in trays, boxes, baskets, tubs, folders, or binders which show defined boundaries. The materials define the activity for the child and show him/her how to complete the task.
Because the task boxes are visual, the need for auditory instruction is reduced. Children with ASD's often have a deficit in the auditory processing of verbal instructions and learn better with visuals. Using manipulatives provides children with tactile and kinesthetic activities. The visual structure and organization of manipulatives prevents spinning, tossing or stimming with the objects because children can see the task that needs to be completed.
Ms. Henry provides guidance in how to set up a work system and gives helpful hints such as working from left to right. Have a "finished" basket or bin to the left of the child for them to place work that is done. Children with ASD need to see the beginning and end of activities to lessen anxiety and confusion. The goal of these work systems is to create independence for the child. Tasks are only placed in the work system once the child can complete them independently.
Each task includes a photo, description of the task, what skills are targeted and ideas for differentiation or a construction tip. All of the materials needed for the tasks are inexpensive and readily available. Instructors can use their imagination and modify tasks to fit the needs and interests of the child. For example, if the task uses farm animals and the child loves dinosaurs, then use dinosaurs to keep the level of motivation high.
Time savers such as a sample letter to send to parents and other teachers is provided for the collection of simple, inexpensive materials for tasks such as shoe boxes with lids, clothes pins, and soft drink can flats. Ms. Henry gives suggestions on what to do with these materials. Her tricks and tips for task box construction help the instructor create the most user-friendly and effective materials.
The appendix lists IEP goals and data sheets for recording progress with tasks – huge time savers for the busy parent or instructor.
How Do I Teach This Kid? Visual Work Tasks for Beginning Learners on the Autism Spectrum is a user-friendly, easy to follow guide to create tasks for effective teaching. By using visuals and hands-on activities, children will experience success with learning basic concepts that are critical for reading, writing and math.