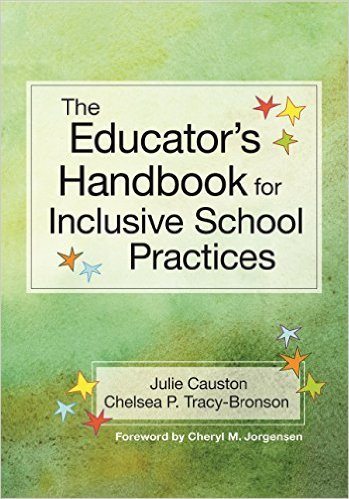 The Educator's Handbook for Inclusive School Practices
As more K-12 schools move toward inclusion, how can general and special educators work together to create warm, welcoming classrooms where all students learn and belong? Discover practical answers in this friendly, down-to-earth teacher's guide. Filled with ready-to-use teaching tips, insights from inclusive educators, and examples that relate directly to everyday classroom experiences, this book will help general and special educators collaborate effectively and build a great "toolbox" of strategies to support all learners within inclusive classrooms. With this highly motivating guidebook close at hand, new and seasoned educators will create engaging, exciting, and joyful inclusive classrooms that support social and academic success for all.
STRATEGIES THAT HELP TEACHERS:
ensure that all students have access to the general education curriculum in the least restrictive environment
presume competence and recognize every student's unique strengths
meet students' individual learning needs with differentiated lessons and innovative academic supports
team up and collaborate with other educators and professionals to make the most of everyone's expertise
distinguish an IEP from a 504 plan, and develop and implement both appropriately
support students who have behavior challenges with a classroom-wide positive behavior support system
promote academic and social inclusion in the classroom and in recreational spaces, from the playground to the lunchroom
supervise the important work of paraprofessionals
avoid burnout with self-care strategies and stress-busters

PRACTICAL RESOURCES: Planning tools and checklists to help you identify student strengths, develop IEPs, plan lessons, strengthen co-teaching, choose modifications and accommodations, and more.