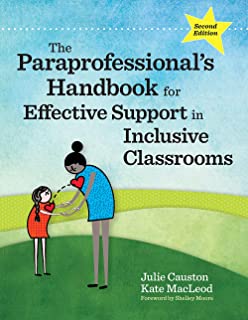 The Paraprofessional's Handbook for Effective Support in Inclusive Classrooms – 2nd. Edition
What does a great paraprofessional need to know and do? You'll find real-world answers from two experts in the second edition of this bestselling guidebook. Passionate inclusion advocates Julie Causton and Kate MacLeod bring you a supremely practical guide to surviving and thriving as an integral part of your school's inclusive team. You'll get immediately applicable strategies for mastering every facet of your complex role: collaborating with other team members, selecting accommodations and modifications, facilitating peer connections, fading your support, and much more. And you'll find a treasure trove of tools—including activities, learning checks, reproducible templates, FAQs, and short to-do lists—to help you reflect on your practice and strengthen your daily work.
An essential hands-on guide for new and seasoned paraprofessionals—and a must-have for the educators and other professionals who support them—this empowering book takes the guesswork out of this critical classroom role so you can help students with disabilities reach their full potential.
WHAT'S NEW:
-New chapter on Respectful Support for Developing Student Independence
-More on key topics such as collaboration, presuming competence, and supporting social and academic success for students with diverse abilities
-New and updated research, practices, digital tools, resources, examples, quiz questions, and reflection activities throughout the book
-Package of online materials, including printable activities, forms, and worksheets