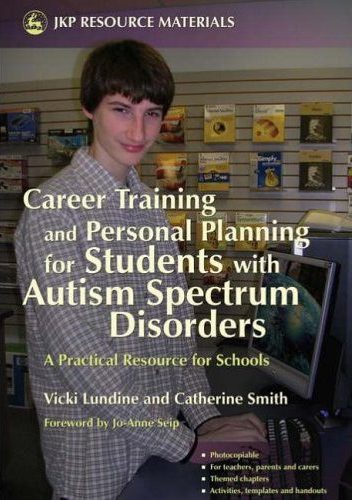 Career Training and Personal Planning for Students with Autism Spectrum Disorders
This training program for teachers and carers assesses ASD students' strengths and abilities, fears and challenges and helps them acquire the skills necessary for a smooth transition from school to employment.
The authors give guidance on developing life skills for employability and independent living, for example, hygiene, time and money management, communication skills, decision-making and setting and achieving realistic goals. They also clearly define the role of parents, job coaches and employers and stress that students are empowered by appropriate support from collaborative, informed teams.
The career program enables students to find out about and explore career options, know how and where to search for a job and how to understand job advertisements. The sections on career preparation include strategies for writing resumes, filling in application forms, compiling career portfolios and conduct at interviews. The authors also cover topics such as punctuality and appropriate behavior in the workplace itself.
This practical teaching resource is packed with lesson plans, implementation procedures, interactive activities and photocopiable worksheets, and the course can be taught over one year or three years. This resource features both Canadian and US content.