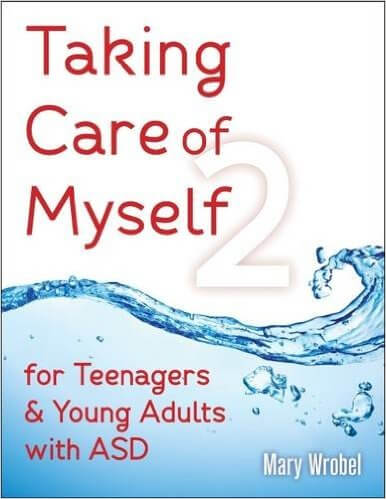 Taking Care of Myself 2: For Teenagers & Young Adults with ASD
Taking Care of Myself 2 is written specifically for teenagers and young adults with Autism Spectrum Disorders (ASD). It is an instructional book to be used by parents, instructors, therapists, and individuals on the autism spectrum. Most of the information is written concisely, however, simple how-to lists are included. This book is great to use in an instructional setting, especially for those individuals who are familiar with that type of format.
Teenagers and young adults with ASD typically want what everyone in their age group wants. Being able to fit in, being as independent as possible, and developing relationships, including friendships, as well as loving, intimate relationships, are important to individuals with ASD.
Fitting in involves looking and acting appropriately, typical of their age peers, and feeling comfortable in public and social situations. Topics such as, dressing for different events, feeling anxious in social situations, and public versus private behaviors are included in this book. Being independent means understanding and managing their health and personal safety, to the best of their ability. This includes important topics such as staying healthy, anxiety, depression, feeling suicidal, social media, sexual harassment and even rape.
Forming relationships, especially intimate relationships are of special interest to teens and young adults on the autism spectrum. Several topics such as, developing a variety of relationships, as well as sex and sexual relationships are covered in this book. Other topics include: finding and keeping friends, finding a boyfriend or girlfriend, how do we define sex, safe and responsible sex, deciding to have sex with a partner, and sex is a choice.