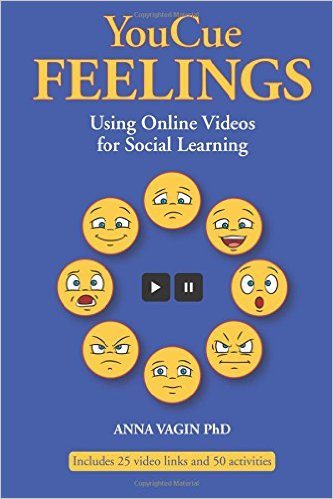 Youcue Feelings: Using Online Videos for Social Learning
Feelings are a crucial element of social relationships, yet students with social learning challenges (some with diagnoses such as Autism Spectrum, Social Communication Disorder or ADHD) frequently have limited understanding of emotions. Our goal for students with such challenges is for them to acquire social relationship skills that will improve their capacity for effective, fulfilling relationships with family members, people at their school or work, and members of their broader community. This is a large and complicated task. YouCue Feelings simplifies such learning using a relatively new form of storytelling – online videos – to accelerate learning about feelings and relationships.
YouCue Feelings includes summaries and titles of 25 wonderful online, easily accessed videos. Each has been selected for its portrayal of rich social relationships and crucial social learning concepts. YouCue Activities, done in conjunction with video viewing, make up the core of the YouCue Feelings program. These activities range from simple drawing projects or discussions about the characters in a YouTube video, to more sophisticated activities such as building connections between the social learning concepts in videos and what happens in a student's everyday life.
There 25 activities in Level 1, focusing on the characters in the videos. Level 2 contains 25 additional activities that use video viewing to jumpstart discussions about the student's own emotional experiences. In this first book of a series, author Anna Vagin, PhD, draws on her thirty years of experience working with children to show therapists, teachers, and parents how to support elementary and middle school students in building their emotional vocabulary, tracking changes in feelings over time, and increasing their ability to reflect on their own emotional experiences. YouCue Feelings guides students in thinking about, talking about, and ultimately, practicing important social learning ideas in their everyday lives.