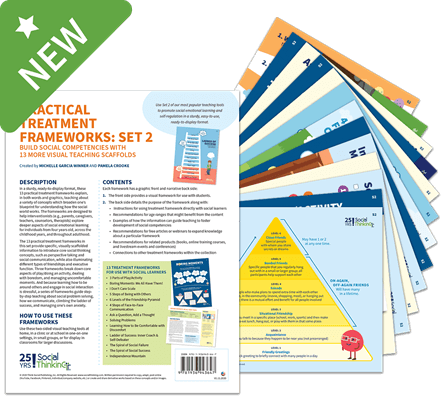 Social Thinking Frameworks Collection | A Set of 13 Social Thinking® Teaching Frameworks Set 2
People are complicated and so is the huge social world. Here are 13 more of Social Thinking's most helpful and popular teaching frameworks in a portable, user-friendly set to help social learners ages 4–adult build social competencies across a wide range of social landscapes. Tried, tested, and perfected over 25 years, these visual supports dissect complex social concepts into user-friendly graphics and logical steps that make sense to social learners. The frameworks in this set explore perspective taking and social communication, different types of friendships, and executive functions. Three teaching frameworks break down core aspects of play/doing an activity, dealing with boredom, and managing uncomfortable moments. Learning how to be around others and engage in social interaction is stressful; a series of frameworks guide step by-step teaching about social problem solving, how we communicate, climbing the ladder of success, and managing one's own anxiety.
Practical Treatment Frameworks: Set 2 is part of a two-set collection of 26 of Social Thinking's most important visual teaching scaffolds for social learning and self-regulation. After 25 years of research, teaching, and learning, Social Thinking has powerful ideas and concrete strategies for helping interventionists help their social learners see and understand the social world and develop lifelong strategies for meeting their social goals.
Practical Treatment Frameworks: Set 2
With Set 2 of this collection, help students build social competencies with 13 more of our most popular and important teaching frameworks to promote social emotional learning and self-regulation at home, in clinic and school settings, and during individual or group teaching. Each framework presents a specific, visually scaffolded graphic to introduce core social thinking concepts, such as perspective taking, social communication, understanding and developing friendships, executive functions, and managing anxiety. The back of each teaching framework provides direct instruction for interventionists about the graphic, as well as recommended resources. Use these frameworks to provide concrete information to expand social learners' mental blueprints for how the social world works and teach them metacognitive strategies to navigate to self-regulate within it.
What's a Framework? 
Each treatment framework provides a kind of blueprint related to one specific aspect within the social world that illustrates the abstract social concept through a step-by-step, visual means. This collection includes a broad array of frameworks that range from assessing learners' needs to breaking down social concepts, such as social communication, friendship, anxiety management, being with others, and many more to make the abstract concepts more concrete for social emotional learning.
When Do I Use These Frameworks?
Use these two-sided visual teaching tools at home, in a clinic, or at school in one-on-one settings, in small groups, or for display in classrooms for larger discussions.
A Breakdown of What's Inside Each Practical Teaching Framework

In a portable, 8.5" x 11" format, these 26 treatment framework mini-posters describe, in both words and graphics, a variety of social concepts which either help the interventionist better understand the social emotional learning abilities of a specific student, or the framework provides information which broadens the student's blueprint for understanding how the social world works.
Each framework has a graphic front and narrative back side. The front side provides a visual framework for use in team meetings with fellow interventionists or for use with students. The back side details the purpose of the framework along with:
-Instructions for using treatment frameworks (for assessment or directly with social learners)
-Recommendations for age ranges that might benefit from the content
-Examples of how the information can guide teaching to foster development of social competencies
-Recommendations for free Social Thinking articles or webinars to expand knowledge about a particular framework
-Recommendations for related products (books, On Demand courses, and livestream events and conferences)
-Connections to other treatment frameworks within the two-set collection
IMPORTANT NOTE! Frameworks provide a blueprint of these Social Thinking Methodology concepts, in addition to high-level, basic instruction. To ensure your deeper understanding and teaching with fidelity to Social Thinking methodology, explore the related resources listed on each framework to learn more strategies and best practices.
Who Are the Teaching Frameworks For?
For over 25 years,  Social Thinking has been on a mission to create meaningful, honest, and practical answers to the questions, "How does the social world work, and how do we learn to navigate to self-regulate within that world? How do we teach this huge range of abstract, implied social information in ways that make sense to social learners?" The Interventionist frameworks in Set 1 present seven conceptual visual tools that provide information specifically for interventionists (parents, caregivers, or professionals) to help them explore the social emotional assessment and treatment needs of their children, students, or clients, as well as expand their understanding of the breadth and complexity of the social emotional world. These seven conceptual frameworks can be used during student study team meetings, IEP meetings, and to guide interventionists' exploration of individuals' social emotional development and treatment needs during the assessment process. The other six Social Learner frameworks in Set 1 and all 13 in Set 2 are designed for teaching core social emotional concepts directly to social learners ages four through adult. It all begins by creating a mental blueprint in each social learner's mind to begin exploring, through the use of strategies, how one mind has to consider many minds at once. Within this collection are the visual tools, the concrete blueprints, for guiding interventionists as they teach and support their social learners in discovering strategies for how to meet their own social goals within the vast, interconnected social world.
The many social concepts, frameworks, and strategies within the Social Thinking Methodology are designed for individuals who have solid to advanced receptive and expressive language, as well as academic learning skills. The information taps into metacognitive understanding of one's own and others' thoughts and feelings and is designed to help interventionists (e.g., parents, caregivers, teachers, counselors, therapists, and other professionals) teach deeper concepts related to social emotional learning to individuals from ages four years old, across childhood, and throughout the adult years.
All social learners benefit from metacognitive strategies for social problem solving and self-regulation, which are at the heart of ever-evolving social competencies. This holds true for those on a neurotypical developmental trajectory, as well as for individuals with social learning challenges. These Social Thinking teaching frameworks can be used with individuals based on their social learning needs and not necessarily their developmental ages.
What's Inside the Social Thinking® Frameworks Collection Set 2?
Practical Treatment Frameworks: Set 2
13 Treatment Frameworks for Use with Social Learners
3 Parts of Play/Activity
Boring Moments: We All Have Them!
I Don't Care Scale
5 Steps of Being with Others
6 Levels of the Friendship Pyramid
4 Steps of Face-to-Face Communication
Ask a Question, Add a Thought
Solving Problems
Learning How to Be Comfortable with Discomfort
Ladder of Success
The Spiral of Social Failure
The Spiral of Social Success
Independence Mountain
Suitable for Ages 4 to Adulthood