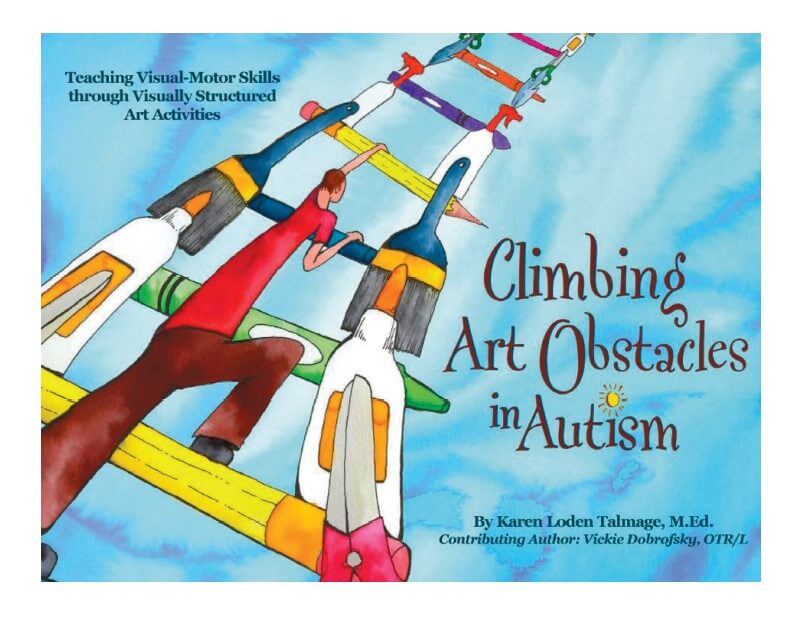 Climbing Art Obstacles in Autism – Teaching Visual-Motor Skills through Visually Structured Art Activities
Educator Karen Loden Talmage has created an exceptional book that offers young children with autism spectrum disorders and other related disabilities an imaginative, yet structured way, to explore art. The author feels that through art we can provide an opportunity for our students to express feelings that typically are unheard. In Climbing Art Obstacles in Autism, Karen shares the visual format that allows young children to practice visual motor skills through typical childhood art. Occupational Therapist Vickie Dobrofsky explains how therapeutic goals can be addressed through these fun and purposeful art activities.
Climbing Art Obstacles in Autism includes:
Art activities tied to common early learning themes
Colorful photos that depict logical sequence of steps
Checklists to assist students in collecting needed materials
The author utilizes visual systems based on Structured Teaching methodology, and this framework incorporates visual directions and specific art tools, which can help motivate students to replicate the visual representation of the art activity, and may also encourage them to engage in expressive, independent behavior. This framework helps to accomplish many individualized objectives found in a student's education or therapy plan, and it also allows children to engage in typical art projects tied to classroom themes. Written for students (and for the teachers and therapists who are assisting them), the book contains checklists to help students collect the necessary supplies for each project.