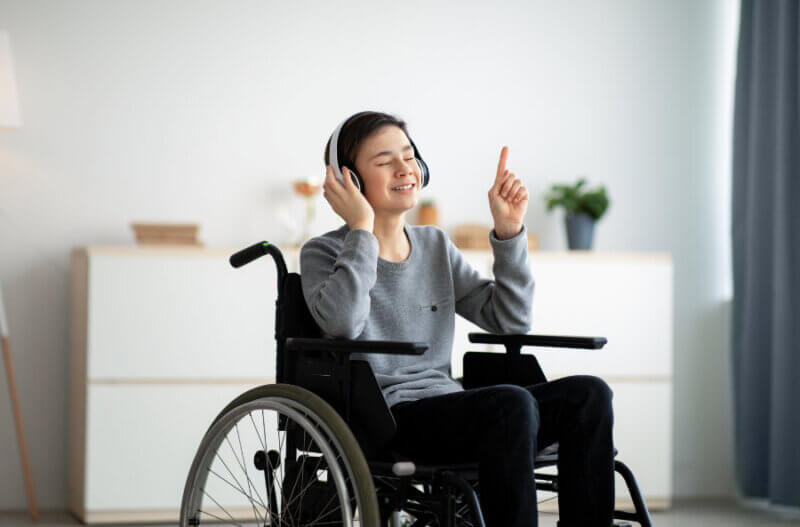 Enhancing the Life of an Autistic Individual Through Music
A woman who worked with a nonverbal, visually impaired young man with autism asked me an interesting question. She was told the young man had low cognitive ability but when he heard music, he came alive. Sitting in his wheelchair, he would rock back and forth in time to the music and hum along to songs. When the music was no longer playing, he would hum the songs and everyone around him recognized the tunes. She was wondering if there was a way she could explore this connection to music in some way to enhance his life and maybe teach him some things too. As a classical musician and former music teacher, my response was an enthusiastic yes!
I think what was happening with this man was he felt a connection to music and could communicate through it. His support team can pursue and build on this interest. Often when a person is blind, their other senses become more acute such as hearing. With autism, many of our individuals have a heightened sense of hearing even without a visual impairment.
Transitions
There is a great deal that can be taught using music. Use certain songs to cue association with tasks. For example, choose a song that you can use for transitioning to another activity. Play it every time you move to something new and an association to that song will happen with that transition. You can pick songs for cleaning up, end of day, lunchtime and the list goes on. Experiment with all kinds of music to see what appeals the most. You Tube is a huge source for music, especially classical. Mozart, Beethoven and Bach are great composers to start with . For Mozart, have a look at Symphony #40 in g minor, Beethoven's Fur Elise, and any of the Bach Preludes and Fugues. Scarlatti is also wonderful. Vivaldi is also great mathematically precise music.
Academics
For academics, try and follow a story like Prokofiev's Peter and the Wolf. This has both the spoken word with music. For math, grab a pair of claves and tap out 2 (2 taps) and say plus 3 (3 taps) and ask the person what does it equal – they can tap back 5 times. Get the individual playing simple rhythm instruments like claves, finger cymbals, triangle, tambourine or a hand drum. Does your school have a music program? Are their Orff instruments about or ones you can get on loan from a school board? Get a hold of a xylophone. This is a simple instrument to learn to play and it develops hand-eye coordination. Explore patterning and memory with a xylophone. Play a simple tune and have the person play it back. Create rhythmic patterns for playback.
Resources
Ryan Judd, music therapist, has created a great series of You Tube videos for autistic children. Here is one for teaching how to use simple instruments. Ryan's website is called The Rhythm Tree. You don't have to be a musician to use these materials. Coast Music Therapy also offers wonderful free resources on their website.
If you are not a musician and need more guidance in music, consider contacting the Canadian Association of Music Therapy. Most provinces have their own association but you can find it through this website. Their links section lists other music therapy associations worldwide.
You can read more about the benefits of music therapy through the Autism Science Foundation or this article entitled Music Therapy as a Treatment Modality for Autism Spectrum Disorders.
If working with adults, have a look at Group Music Activities for Adults with Intellectual and Developmental Disabilities. For speech development, read Developmental Speech-Language Training through Music for Children with Autism Spectrum Disorders: Theory and Clinical Application. Music for Special Kids – Musical Activities, Songs, Instruments and Resources is a practical resource that explains simple and fun ways of using songs, instruments and musical games to connect with children of all levels of ability, and includes helpful rhythm worksheets and sheet music.
Music provides many possibilities for learning and enjoyment. Both of my autistic children have had the benefit of live music through their father who is a classical pianist. The music calms them throughout the day. My son has developed a keen interest in music and is attending concerts, a regular drum circle, and sings and dances every day. The experience of music is an important part of a well rounded education. Make sure the individual you support is having the opportunity to listen and participate in musical activities. It can enhance a person's life and well-being.
Editorial Policy: Autism Awareness Centre believes that education is the key to success in assisting individuals who have autism and related disorders. Autism Awareness Centre's mission is to ensure our extensive autism resource selection features the newest titles available in North America. Note that the information contained on this web site should not be used as a substitute for medical care and advice.