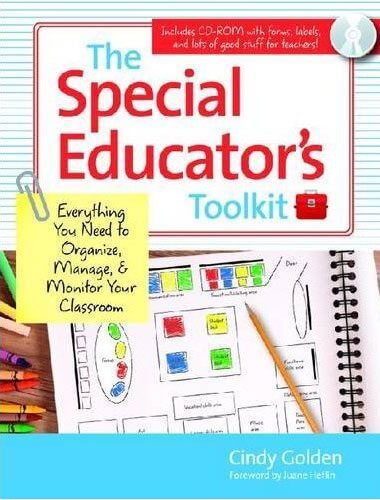 The Special Educator's Toolkit: Everything You Need to Organize, Manage, and Monitor Your Classroom
Overwhelmed special educators: Reduce your stress and support student success with this practical toolkit for whole-classroom organization. A lifesaver for special educators in any K–12 setting, this book-and-CD set will help teachers expertly manage everything, from schedules and paperwork to student supports and behavior plans.
Cindy Golden, a seasoned special educator, administrator, and psychologist with almost 30 years of experience, has based this teacher-friendly toolkit on her popular OMAC (Organization and Management of All Classrooms) system—an innovative approach to creating effective classrooms for students with all types of disabilities. Special educators will get step-by-step, ready-to-use guidance on managing six key aspects of their daily work:
1. Environment: Make the most of every inch of classroom space! Clean out clutter, arrange furniture to improve traffic flow, and construct classroom zones, work stations, and bulletin board displays that support learning.
2. Communication: Implement low-cost communication supports that meet student needs. Make simple picture symbol books, interactive schedules, labels for classroom areas and objects, and more.
3. Teaching Methods and Materials: Determine student needs, create schedules, simplify the IEP process, and pinpoint the best methods for teaching academic, vocational, behavioral, social, and life skills.
4. Behavioral Systems: Organize a successful behavioral system that motivates students, helps them improve behavior and social skills, and uses positive reinforcement techniques.
5. Data and Paperwork: Learn the secrets to creating a simple, logical, highly efficient system for managing paperwork so more time can be spent on teaching.
6. Staff and Home Supports: Build trusting, respectful relationships with classroom staff and parents with stress-free strategies like team meetings and home communication notebooks.
This is the ultimate guide for every special educator, from the first-year teacher setting up a new classroom to the seasoned veteran who wants a down-to-earth guide to current best practices.
Teachers will come away empowered and motivated to get and stay organized—and they'll see the positive results year after year in their classrooms.