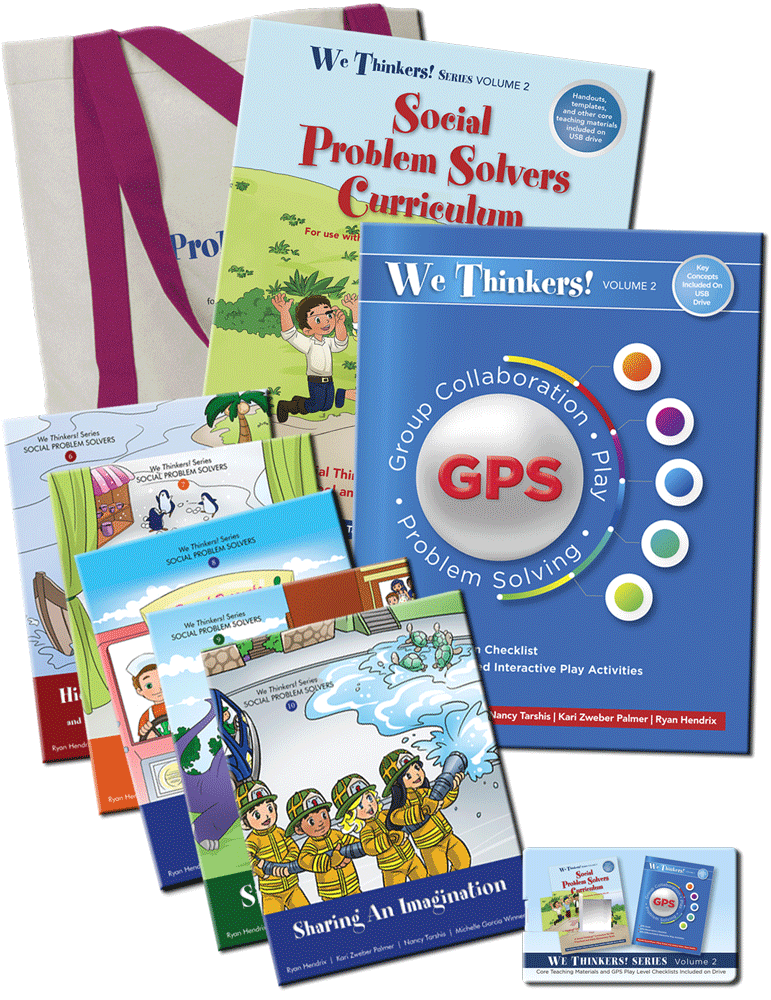 We Thinkers! Volume 2 Social Problem Solvers
Due to the mass confusion caused by the word "flexible" in the names of many of the Social Thinking products, The Incredible Flexible You series name has changed to We Thinkers! Volume 1 will eventually be renamed We Thinkers! Volume 1 Social Explorers. There will be no content changes in Volume 1, only a name change. Volume 2 is named We Thinkers! Volume 2 Social Problem Solvers. Thank you for being "flexible" about this change!
Volume 2 picks up where Volume 1 left off. The teaching across the series is sequential and concepts build upon each other, therefore it is important that Volume 1 be used before moving on to Volume 2.
In Volume 2 we delve deeper into how to figure out the social clues to share space, interact, and regulate emotions. We use the term "social executive functioning" to discuss that we are helping children learn to better self-regulate their behavior and emotions when sharing space or interacting with others. Social executive functioning is used in the classroom when sitting in a group to learn, it's used when running onto the playground to play with others, and kids use it to figure out how to join a play group that's pretending to be pirates. It involves surveying a social situation, understanding what the group is doing, considering others' ideas, having enough flexibility (in thoughts and behavior) to ride out the shifts and changes that may occur, negotiating roles, turns, or positions, and self-regulating to keep emotions, actions and reactions under control when problems arise.
Social executive functioning is a tall order for our early learners (especially for kids with social emotional learning challenges). Volume 2 Social Problem Solvers curriculum breaks down these complex concepts into smaller, teachable segments that kids can understand and presents them in an organized curriculum from which adults can teach synergistic concepts in a step-by-step manner.
Excellent teaching curriculum for all students in a mainstream setting and with deeper lessons geared to students with social learning challenges.
About the Storybooks
Volume 2 starts with Storybook 6.
Because the concepts are more complex in Volume 2, authors provide suggestions and page references for teaching the storybooks in segments. Each storybook has a short introduction to the adult about the Social Thinking concept and how to use the book.
Storybook 6 – Hidden Rules and Expected and Unexpected Behaviors (Pirate Adventure)
Storybook 7 – Smart Guess (Mystery Adventure)
Storybook 8 – Flexible and Stuck Thinking (Ice Cream Shop Adventure)
Storybook 9 – Size of the Problem (Dinosaur Birthday Party)
Storybook 10 – Sharing an Imagination (Park Adventure)About the Curriculum BookUsers of Volume 1 will find a similar structure to curriculum units included in Volume 2. The book opens with an introduction that explores the evidence behind the curriculum, discusses social executive functioning, self-regulation, social problem solving, and the importance of play and the many skills learned through play. Each Social Thinking concept has its own teaching unit that includes discussion, teaching moment guidelines and structured teaching activities that give kids the practice they need. Authors also include rubrics for assessing how children are learning the concepts, ideas for goal writing, links to the Common Core/state standards, and family letters to send home to parents/caregivers.
We Thinkers GPS Book – Children play and interact—the Social Thinking concepts and skills we're teaching in Volume 2 aren't meant to be used just when children are in the classroom, clinic or therapy room. In this groundbreaking new addition to Volume 2, we focus on interactive play skills through introducing our new Group Collaboration, Play and Problem Solving (GPS) framework to teach children how to take all the good social abilities they're learning through the storybooks and curriculum units and generalize them to their interactions with others in the classroom, on the playground, at home and in the community.
The GPS book includes a research review, discusses the importance of interactive play as the foundation for later learning, and offers our brand new GPS tools that help adults widen their perspectives and teaching know-how in providing differentiated instruction and treatment plans. The book introduces our new five-level GPS Play Scale and its related GPS Observation Tools (checklist and scoring forms). Once we know children's starting play level, we demonstrate how professionals and parents can tailor their teachings to build guided interactive play lessons. The second half of the book offers differentiated interactive play activities for GPS play levels 2-5 for each of the five Social Thinking concepts introduced in the storybooks and curriculum units. This is where parents and professionals tune into how to help play truly come alive for our kids!