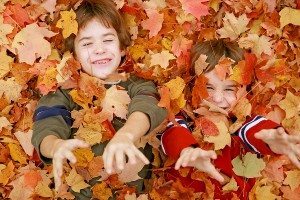 Top Five Tips for Getting Your Autistic Child Into Their Fall Coat
Fall is in the air, and a change of seasons means a change in temperature. This can be problematic for some on the autism spectrum because of difficulty with temperature regulation. Jeannie Davide-Rivera, mother of three autistic sons, wrote an excellent post about this very topic. She says, "Temperature regulation is an automated body system that regulates the body's core temperature in response to outside stimuli. The temperature of the body is regulated by neural feedback mechanisms in the brain, which operate primarily through the hypothalamus. It has the remarkable capacity for regulating the body's core temperature that keeps your body temperature somewhere between 98F and 100F. When your body is exposed to heat or cold conditions this system balances your internal temperature with the temperature outside."
Because of sensory processing issues, autistic individuals may exhibit hyper or hypo sensitivities to heat and cold. A child may not feel how cold it is in the winter and take off his coat. Another person may start to shiver as soon as they come out of the sun and enter an air-conditioned room.
Temperature regulation issues are important to know about because it can lead to discomfort and later, challenging behavior such as meltdowns or shutdowns. Teachers and school playground supervisors will have to work extra hard to keep an eye on those children who are not wearing a coat while outside at recess. Look for signs of overheating or the need for extra cool down time, like after physical activity.
Here are my top five tips for helping ease the transition, and getting your child dressed for the change in the weather:
Be a good role model. Dressing yourself for the outdoors is going to help show your child the way. Don't like wearing a hat? Likely your child is going to follow your lead. So dress yourself up first before you get your child ready.
Pick your battles. Leaving the house, or coming inside doesn't have to be an all out struggle. Choose what you think is the most essential, and go from there. Do they really need mittens to get out the door, or is that something you can take with you, or put in their pockets for later.
Offer choices. Giving your child a sense of control over what they want to wear, or being able to provide some other choices when one has been turned down can really help avoid frustration.
Just keep trying till you find what works. Not all those with sensory sensitivity like the same things. Some can't stand the prickly feeling of wool, others won't like the slipperiness of silk. Your child will eventually let you know what works for them.
When you find something that works, buy more of them. Some kids are very particular about what works for them. Buying a few different sizes up can limit arguing about putting on clothing for several years while your child grows. Understanding that your child is truly uncomfortable, and that you just need to try and work with them to find a solution can often waylay the dreaded daily door frustration that can happen for many parents.
Editorial Policy: Autism Awareness Centre believes that education is the key to success in assisting individuals who have autism and related disorders. Autism Awareness Centre's mission is to ensure our extensive autism resource selection features the newest titles available in North America. Note that the information contained on this web site should not be used as a substitute for medical care and advice.