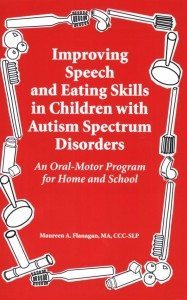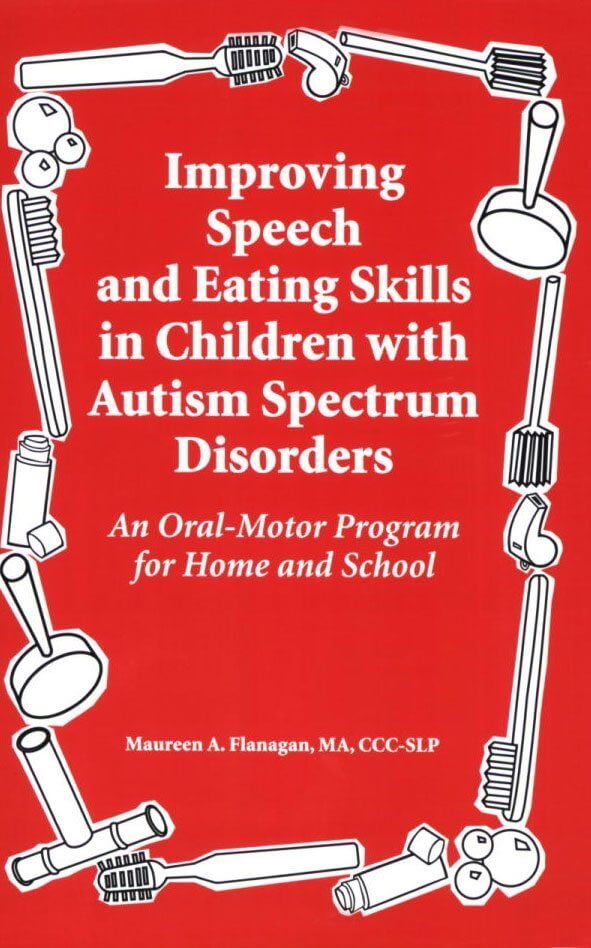 Improving Speech and Eating Skills in Children with Autism Spectrum Disorders: An Oral Motor Program
Maureen Flanagan's new book Improving Speech and Eating Skills in Children with Autism Spectrum Disorders shows how to implement a program at home or school. Ms. Flanagan states, "Working on oral motor skills will help expand the child's diet, accept oral input from a toothbrush, increase the number of sounds that are produced, and assist with imitation and initiation of speech production." Written for parents and teachers, this book details techniques and activities to work on oral motor skills and explains the reasons for working on these skills.
The book begins with a brief overview of the sensory systems. There are definitions of high and low muscle tone problems as they relate to speech and a brief exploration of specific speech problems such as dysarthria and apraxia.  The second chapter on the evaluation of oral motor development outlines what is typical development and what a therapist will assess and look for during an evaluation. This information can be helpful so that the parent, caregiver, or teacher knows what to expect and can help them formulate specific questions to ask.
Ms. Flanagan describes the treatment environment, the oral motor program, and activities in an easy to follow format accompanied by photos, tables and drawings. A parent, teacher, teaching assistant or caregiver will be able to follow this program quite easily. Most of the oral motor tools are inexpensive and easy to find. Some tools are around the house like lotion, wash cloths, or lip balm. Unscented products may be the best route to go if there are olfactory or skin sensitivities. The food activities are divided into attributes of the food such as crunchy solids, challenging foods to encourage chewing, foods to facilitate sucking, and foods with a strong taste as well as foods that should be avoided in an oral motor treatment program.
Flanagan's incorporation of routines into daily life is easy to do and case highlights about children of a variety of ages offer examples of how to implement a program throughout the day. In addition, the author does explore some complimentary therapies in a non-judgmental way supported by case examples. She briefly outlines some ways in which to collect data based on observation, which is a necessary step in making sure a treatment is effective or if it needs to be changed or tweaked.
There is a comprehensive list of references, oral-motor/eating/speech checklist, a list of materials for an oral motor box/bag provided in the appendix, and a data collection sheet for the oral motor program. The resources section only lists US based organizations and companies, but it does give the reader a place to start for information.
Although this is not an in-depth approach to oral motor difficulties, it is an excellent place to start for people who are not speech pathologists but need some guidance in how to work with oral motor difficulties. Ms. Flanagan explains everything in layman's terms and her visual support of the information and chapter summaries make this book very user friendly. Improving Speech and Eating Skills in Children with Autism Spectrum Disorders is a great starting point for those who need to address the area of oral motor difficulties.
Visit Autism Awareness Centre's Bookstore to purchase Improving Speech and Eating Skills in Children with Autism Spectrum Disorders: An Oral Motor Program
Editorial Policy: Autism Awareness Centre believes that education is the key to success in assisting individuals who have autism and related disorders. Autism Awareness Centre's mission is to ensure our extensive autism resource selection features the newest titles available in North America. Note that the information contained on this web site should not be used as a substitute for medical care and advice.