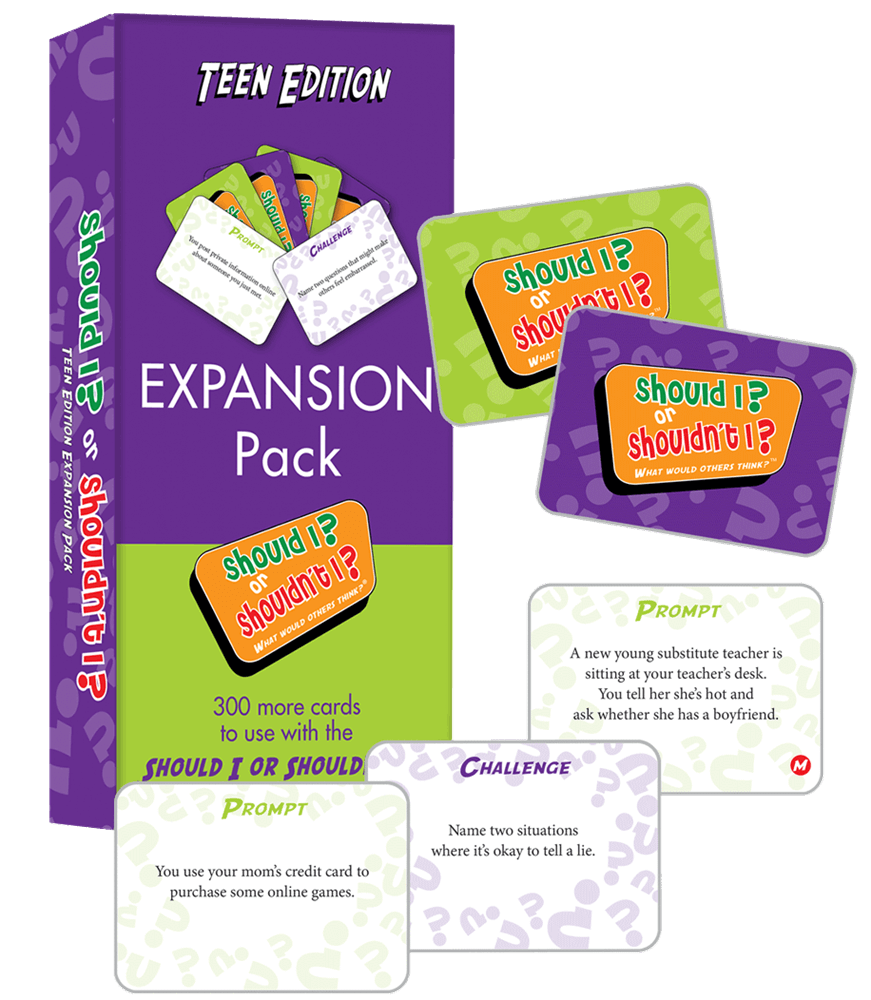 Should I? or Shouldn't I? Teen Edition Expansion Pack
Double your playing fun with the Should I? or Shouldn't I? Teen Edition Expansion Pack! This product is an add-on to the original Should I? or Shouldn't I? What Would Others Think? Revised Edition for Teens game. In the game, players ages 12-18 rate an action or reaction in a particular context on a scale based on how it makes them feel, and then compare how their perceptions, interpretations, and social responses match (or don't) those of the other players. Teachers, clinicians, and families have been playing this game so often that they've gone through all the playing cards and have been asking for more. Well–we listened!
The expansion pack includes 300 NEW situations that cover various age-related situations encountered at school, home, and in the community. Add the new cards to your existing game decks or use them on their own to prompt deep discussion and learning on perspective taking, self-awareness, and executive functioning.
An added bonus! We've indicated with icons some situations in the Teen Edition Expansion Pack are appropriate for a specific age group or maturity level. Other than these small icons, the color and format of the cards is exactly the same as in the original game so that the decks can be combined into one.
High School Situations
Some situations students face in high school are too advanced or complicated for most kids in middle school. Therefore, we've identified the situation cards intended for high school players with a small black "HS" icon in the lower left corner of each card. All other cards without the "HS" icon are appropriate for both middle and high school age ranges.
Mature Situations
Some situations involve mature subjects, so these cards have been identified with a small red "M" icon in the lower right corner of each card. This icon will help the supervising adult quickly identify these cards and remove them as needed depending on the maturing level of the players.
Contents:
100 Middle School Prompt cards
50 Middle School Challenge cards
100 High School Prompt cards
50 High School Challenge cards
NOTE: ORIGINAL GAME MATERIALS ARE NOT INCLUDED. Expansion pack only contains extra prompt cards and challenge cards.