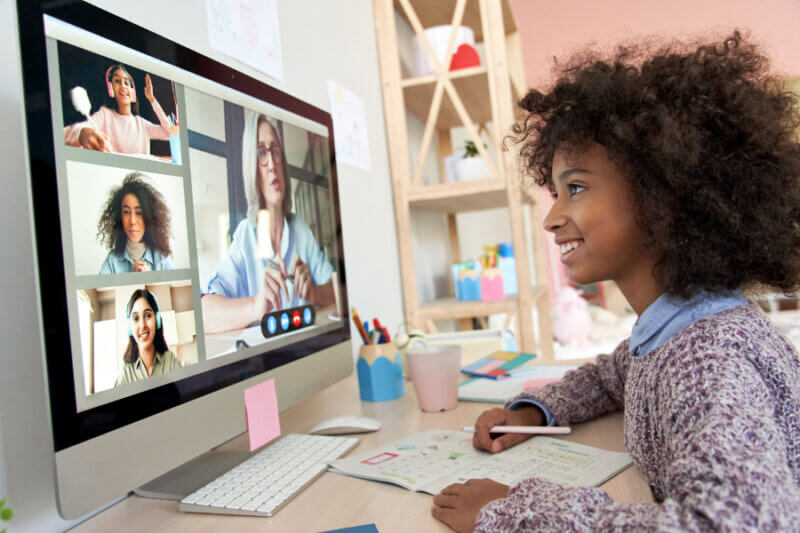 Socially Connecting, Learning, and Meeting While Physically Apart – Ideas for the ASD Community
Meeting and connecting virtually was a part of our world before the pandemic started, but it is now a part of life more than ever. At the moment, it is the only way to socialize safely in larger groups. In some areas of the world, schooling remains online rather than in person.
There are advantages and disadvantages to being online. The internet allows us to connect with a wider group of people from places outside of our locale. There are groups that meet around specific interests. I have written about my daughter's improvement in her writing and storytelling ability since joining the Fan Fiction Wattpad group online in March 2020 (over 80 stories written so far). Meeting platforms keep us in touch with family members and friends that we can't visit with right now.
Online communication is complex, though. People may misrepresent themselves or be more aggressive with what they say in the absence of in person contact.  Social cues are missing such as full body language, which adds to meaning and understanding. Eye contact can feel more intense. Zoom fatigue – the tiredness, worry, or burnout associated with overusing virtual platforms of communication, is a real thing. It is thought that audio is the main reason for fatigue due to millisecond delays in virtual verbal responses which negatively affect our interpersonal perceptions. Auditory processing tends to be a problem in individuals with ASD. The Psychiatric Times wrote an interesting article on the psychological explanations for Zoom fatigue – well worth reading.
Although there are pros and cons to connecting and learning online, it will remain the safest mode to do so for some time. How to we make the experience the best and safest it can be for individuals with ASD?
Setting the Rules, Guidelines and Expectations For Your Groups
In Kerry Mataya's webinar on Helpful Tips and Resources for Teaching Conversation Skills to High Functioning Students with Autism Spectrum Disorder, she had a section about teaching conversation skills online. Many of her guidelines would be applicable for any online group activity or meeting. Kerry suggests :
Using PowerPoint slides to share rules and expectations in writing.
Assume there are people around and choose appropriate topics for a larger group audience.
Be aware of talking about personal topics with different categories of people present. (ex. siblings, parents)
Move away from others to keep distractions at a minimum.
Maintain confidentiality and privacy by not recording the meeting.
Review participation rules like mute your microphone when not speaking, use the raise hand function when you want to speak, mute background noise, sit in a well lit area.
Disable chat functions when working with students to avoid them private messaging each other in groups.
There are many articles on how to establish online guidelines for community groups. Do a little searching and reading to pick and choose what rules and expectations would work best for your group's purpose and support it running smoothly.
What to Do Online to Connect with Others
There are many activities to do online – discussion groups, meetings, and clubs for every topic imaginable. Joining groups that share a common interest can be rewarding. Here are some ideas of what you can do online.
Connecting with Family and Friends
Sometimes coming up with things to talk about or maintaining a conversation can be difficult. If your child/student struggles with conversing, consider a show and tell format for an online visit. This can be done by sharing photos of the family pet or discoveries on a walk, doing a project together online, or making something like an art project. Some people cook together. A friend of mine hosts story time for her grandchildren and divides each segment of reading by age.
You can plan what to say ahead of time by jotting down some highlights of the week or writing out a script that can be read aloud. Shoot some videos of children in action. Seeing a video can also help with the recall and sequencing of an event.
Book Clubs
Found a book that you love? Want to talk about it? There are hundreds of online book clubs. Check with your local library. For example, Jane Austen book clubs are all over the world.
Movie Night
Watch a movie together through video conferencing or chat on text while the movie is playing.
Board Games
There are numerous online sites to access for playing board games online. There is Board Game Arena or Tabletopia. If you are looking for the classics like Boggle, Clue or Monopoly, here they are.
Physical Activity
Staying active is an important part of well being. There are many exercise classes online both prerecorded programs and live groups. You can find many different sports. Special Olympics has great virtual health and fitness programs as well as guidelines for keeping fit at home.
Local Library Offerings
Libraries are more active than ever with many online lectures on a variety of topics. While some are large meetings, many are smaller with 20 people or less.
Favorite Places
Many attractions that are now closed or have capacity limits are offering experiences online. These can be webinars, live discussion, or short courses on topics of interest. For example, zoos, science centers, museums, art galleries, and symphonies have many programs online now.
Where Can You Find Online Groups?
Meetup – a platform for finding and building local communities. People use Meetup to meet new people, learn new things, find support, get out of their comfort zones, and pursue their passions, together.
Local Autism Society or Autism/Disability Organization – most are offering groups online right now. Here is an example of some online programs offered by the Centre for Autism Services Alberta. Cerebral Palsy Alberta offers virtual programs.
Local Library – for specific interests and topics
Ten Online Safety Tips – What to Know About
No matter what a person does online, safety and care for a person's well-being has to be top priority. Here are some things to be aware of:
Cyberbulling- this can be abusive messages received through email, text message, and instant chat. Other examples on online threats, humiliation, online stalking, sharing posts and photos without permission and gossip.
Misunderstandings – not everything you read on the internet is true and not everyone is honest.
Scams, Manipulation or Hacking of Accounts
Exposure to Inappropriate Content
Sensory Overload – loud clicking keyboard sounds, bright lights, blue light, sudden loud sounds. Take regular breaks away from screens.
Internet Addiction
Protecting a Person on Social Media Platforms – risks, changing account settings to avoid explicit content, scammers, fake profiles, and cyberbullies
Fake Profiles-  knowing how to verify if a person  iswho say they say they are
Signs That Something May Be Wrong – if online contact is making a person feel upset, uncomfortable, or unsafe
Know the Ways to Keep Children Safe – keep computers in a communal space, a handy checklist for information they can't give out over the internet, reporting cyberbullying to an adult, install child-friendly filters.
Touchpoints' A Helpful Online Safety Guide for People With Autism Spectrum Disorders provides excellent, detailed information on how to keep individuals of all ages with ASD safe from harm. They have some great infographics that can be displayed as reminders on safety topics, covering all the basic points.
Editorial Policy: Autism Awareness Centre believes that education is the key to success in assisting individuals who have autism and related disorders. Autism Awareness Centre's mission is to ensure our extensive autism resource selection features the newest titles available in North America. Note that the information contained on this web site should not be used as a substitute for medical care and advice.