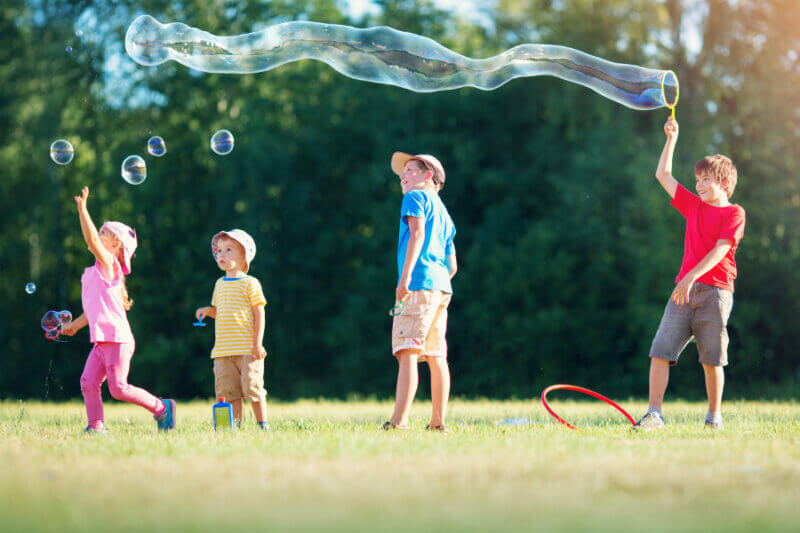 A Cautious, Open Summer in the Age of COVID-19
Many restrictive measures around the world are being relaxed as we head into summer. With vaccination programs in high gear, life is starting to feel safer. Leaving lockdowns behind and entering back into a more free world can also cause anxious feelings. Will the virus come back or a new variant emerge? What things can we do this summer? How do we stay well and safe?
This summer will be a different one from 2020, but not everything will be back to normal. As we kick off the summer season, here are some things to think about.
Separation Anxiety
This may be the first time since the pandemic began that parents are able to return to work or that children can participate in camps or summer programs. After months of being altogether, we may now have periods of the day apart. To ease this transition, take small separation steps. Start by sitting out in the backyard or walking down the block and back just to have your child get used to you being away for short periods of time. Gradually lengthen the time away.
Always say where you are going, when you'll be back and what you are going to do. A Social Story™ may help create predictability and take the mystery out of what you are doing when out of the house. It can also give your child some ideas of what they can do in your absence.
Visiting Attractions – Do Your Research
If you plan on visiting any attractions such as an amusement park or fair, check their website or call ahead to ask what protocols are in place. Crowded indoor spaces may still require mask use. You may have to arrange for a timed entry. Capacity may be restricted. Some attractions may not be open or temporarily closed. It is better to know ahead of time what to expect rather than be surprised on arrival, which can cause anxiety and stress.
Spend Time Outdoors
When you think of your fondest childhood memories, they are probably about something you did outdoors. Maybe it was camping, going to the beach, playing in a tent or sandbox, having a game of flashlight tag, learning badminton, or swimming in a lake. Playing outdoors builds physical health, provides exposure to vitamin D, supports cognitive and emotional/social development, improves sensory skills, increases attention span, and contributes to a better mood and a sense of well-being.
Being outside reduces anger, fear and stress, and contributes to physical well-being by reducing blood pressure, heart rate, muscle tension, and the production of stress hormones such as cortisol. Outdoor activity can also support a better sleep at night.
For ideas on what to do outdoors, please read my past blog on this subject.
Make Time for Daily Physical Activity
Physical activity is an important part of health and well-being. Regular exercise lessens anxiety, improves sleep, increases endurance, builds muscles, develops motor skills and offers opportunities for socializing. Whether being involved in organized sports on a team, solo activities (swimming, archery, martial arts), or just playing outdoors, physical activity offers the chance to grow stronger, expand interests, and adds to the enjoyment of life.
Physical activity doesn't have to be complicated – it can be as simple as going for a walk with a goal in mind like going to the corner store for milk or a treat. We sometimes take our cat for a walk in his cat backpack. Walk to the local playground and shoot some hoops.
For more information on physical activity and physical literacy, please read my blog post on this topic.
Explore Locally
With travel restrictions and additional requirements still in place, staying close to home may be the best option for some families. Check out what your own home town has to offer. There are usually special events throughout the summer such as music festivals or theme days. We have an historical village that hosts Railway Days centered around trains. I discovered a local walking tour led by an Indigenous woman who will talk about the healing properties of plants in the area. My son will love this!
Check out the library because they usually have a summer reading incentive for children and other interesting courses. Visit a Farmer's Market and try something new. Explore a garden. Have a picnic in the woods or by a lake.
Keep Informed
The COVID situation can change at any time so keep up with the news and any changes to protocols. Relaxed measures can suddenly tighten again if an outbreak occurs. Let children know that there are things they can continue to do to keep safe like handwashing, social distancing, wearing a mask in indoor spaces, and socializing outdoors which is safer than indoors. Emphasize the things we can control such as:
Turning off the news if it gets too overwhelming.
Limiting social media.
Our own social distancing.
Following health recommendations.
Eating healthy.
Exercising.
Finding interesting and fun things to do at home.
Our attitude and response to situations.
Our kindness towards other people.
Even with restrictions and some limitations, you can still have a fun summer filled with great memories. The best times in life are often the simple ones like roasting marshmallows or going swimming. Have a wonderful summer and stay safe and well. I'll be back to blog writing later in August after a much needed break. Take care everyone!
Editorial Policy: Autism Awareness Centre believes that education is the key to success in assisting individuals who have autism and related disorders. Autism Awareness Centre's mission is to ensure our extensive autism resource selection features the newest titles available in North America. Note that the information contained on this web site should not be used as a substitute for medical care and advice.