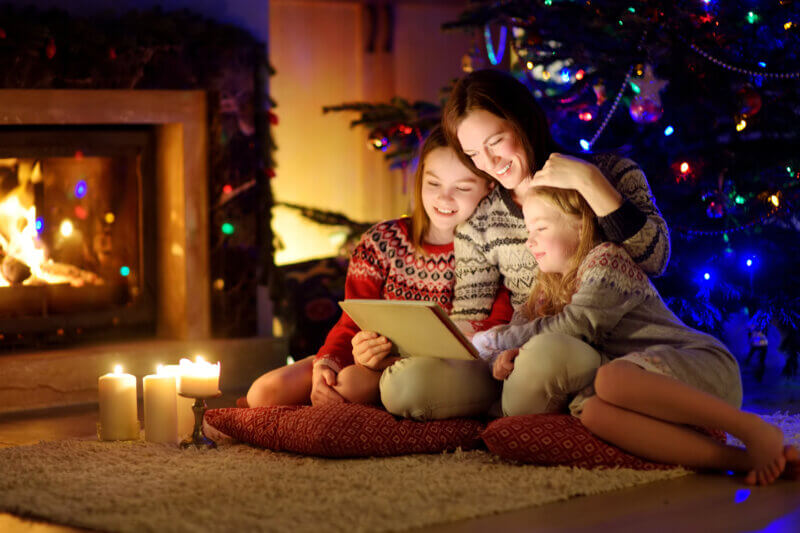 A Different Kind of Christmas
This Christmas will be a holiday like no other we've had before. The pandemic has set new boundaries and protocols that must be followed to ensure everyone's health and safety. Even with these changes, you can still create memories and enjoy this special time of year. Here are some ideas to make the holidays bright.
Take a Drive
Having a change of scene can be both refreshing and renewing. If you live in the city, head out to the countryside. Make a game of it by trying to spot things along the way like horses, cows, a barn, or weather vane. Drive to a nearby neighborhood and look at the Christmas lights. Bring a snack along and stop at an interesting viewpoint.
Arts and Crafts
Keeps hands and minds busy with creative projects. Make holiday ornaments for the tree or your own Christmas cards. Try making some simple Christmas crafts. Sensory Processing Disorder Parent also has 40 great ideas for Christmas crafts on their website. Decorate gift boxes or make your own gift tags.
If you have a child who likes to sew, there are lots of simple projects to try. For a structured activity with step-by-step instructions, consider buying a kit to make things like jewelry, pictures, window art or stained glass. The Dollar Store is a great place to find inexpensive project kits such a paint by numbers or painting with water.
Baking and Cooking
Holiday baking can add tasty pizazz to any meal. There is a great website called the Accessible Chef that allows you to create your own visual recipes. Cindy's Autistic Support website has a cooking section with links to helpful resources. Decorating cookies or a gingerbread house is also fun. If you aren't a baker, you can buy plain cookies or a ready to assemble gingerbread house.
Baking with a purpose can be satisfying and motivating. Our daughter is making and decorating cookies for a homeless shelter.
Have an Online Visit
While you may not be able to have an in-person visit with family or friends, you can do it online through platforms like Facetime, Zoom or Skype. Provide some structure to an online visit by planning ahead on what to talk about as it can be anxiety causing to come up with things in the moment. You could show a craft, talk with a puppet, sing a song, read something aloud (my son's favorite thing to do online), or show some photos of things you've been doing over the past week or month. An activity can be done together online too like making a dish or simple treat like poppycock.
If being live online can't work, consider making a short video and sending that over. We created a Dropbox folder of our daughter's artwork to send to our friends and family.
Get Out in Nature
Even if it's cold outside, you can bundle up and still enjoy the outdoors. I have written about outdoor activity and how important regular exercise is in managing anxiety. Consider trying a new sport this winter like ice skating, snowshoeing or cross country skiing. My son enjoys hikes and loves to go to a park where he can see the planes come and go from the airport.  Fresh air and exercise also helps with sleep. CBC Parents has a list of 50 winter outdoor activities.
Board Games
Board games are a great way to pass the time and interact. Cause and effect toys and games can be fun such as Kerplunk, Don't Break the Ice, Don't Wake Daddy, or Jenga. You can also play board games online with family and friends through Board Game Arena or Tabletopia. If you are looking for the classics, here they are.
Out and About in Your City or Town
Contact your local tourism office or visit the city/town website to see what activities might be on offer during COVID-19. Organizations and sites may still be open and offer a timed entry or limited capacity to ensure safety.
Make New Family Traditions
This is the perfect year to create a new Christmas tradition while staying at home. It can be as simple as making a new recipe or starting a family game night.
While this holiday season is going to be a very different one from past years, you can still connect with family and friends, develop new traditions and enjoy some of your old ones. Stay safe and well during this unprecedented time. I wish all of you a very Merry Christmas and Happy New Year!
Editorial Policy: Autism Awareness Centre believes that education is the key to success in assisting individuals who have autism and related disorders. Autism Awareness Centre's mission is to ensure our extensive autism resource selection features the newest titles available in North America. Note that the information contained on this web site should not be used as a substitute for medical care and advice.