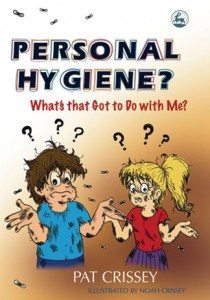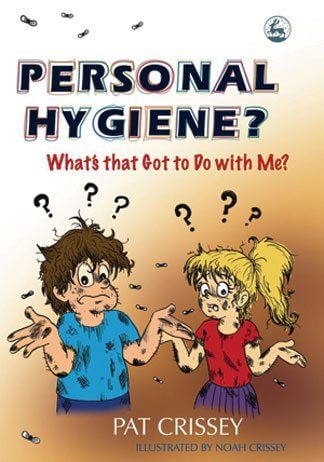 Personal Hygiene? What's that Got to Do with Me?
Author: Pat Crissey
Publishing Info: December 2004
Reviewed by Maureen Bennie: Director, Autism Awareness Centre Inc. 
Teaching personal hygiene to young people with autism spectrum disorders and other developmental disabilities can be a difficult task because they do not always see the need to develop good hygiene habits. Special education teacher Pat Crissey has created a curriculum to teach personal hygiene to young people ages 8 to 14 that helps them understand the social implications of neglecting personal hygiene.
This interactive program has quizzes and activity pages that provide opportunities for repetition and reinforcement of what to do to develop good personal hygiene habits. While children with ASD may not always see the need to use good hygiene, the curriculum will help develop routines that will become part of their daily living skills. The hands-on activities provide a functional approach to teaching, demonstrating why and how to perform various hygiene tasks. Worksheets help children set up a daily schedule to allow time for completion of hygiene tasks.
The chapters in the book cover the topics of looking and smelling clean, hair washing, dental hygiene, bad breath, clean hands, hair removal, foot care, skin care, and good bathroom hygiene such as how much toilet paper to use and sanitary needs for menstruating girls. Each chapter begins with a highlighted box that contains the vocabulary for the chapter called "Words to Know" followed by an explanation about the social concept of that aspect of hygiene.
Chapters have a separate section for boys and girls. The steps for the hygiene tasks are illustrated providing that much needed visual support for learning. There is a quiz at the end of each chapter, which is multiple choice and one question that the child has to list the steps for the hygiene task. The quizzes give added reinforcement of concepts. There is a final quiz at the end of the book on the whole hygiene curriculum.
There are 10 additional activities to accompany the lessons. Examples of the activities are word searches, crossword puzzles, hidden messages and fill in the blank. "See for Yourself" activities are hands-on activities that demonstrate key points throughout the book. Personal stories used to provide further reinforcement of concepts are written in the first person and read by the student. They are constructed in the style of Carol Gray's Social Stories™.
Personal Hygiene? What's That Got to Do With Me? can be used by educators, therapists and parents. This interactive curriculum involves the child and makes the concept of personal hygiene understandable and meaningful. The book teaches essential hygiene skills and creates habits and routines for a lifetime of good health.
Visit our Bookstore to purchase Personal Hygiene? What's that Got to Do with Me?.
Editorial Policy: Autism Awareness Centre believes that education is the key to success in assisting individuals who have autism and related disorders. Autism Awareness Centre's mission is to ensure our extensive autism resource selection features the newest titles available in North America. Note that the information contained on this web site should not be used as a substitute for medical care and advice.