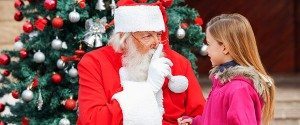 'Quiet' Santas welcome kids with autism across the country
Sitting on Santa's knee and telling him what your Christmas wishes is a childhood tradition, but for children with autism this isn't always a reality. Long line-ups, loud music, screaming children, and a busy shopping mall can be too stressful for a child with autism. Enter the Quiet Santa Program – geared to children with autism and special sensitivities. The lights are dimmed, the music is turned off. Often these events, called Quiet Santa or Silent Santa, are held before the mall opens. Malls all over Canada and the US offer the program. To read more about it, click here. To read about some Canadian program highlights, click here.
Editorial Policy: Autism Awareness Centre believes that education is the key to success in assisting individuals who have autism and related disorders. Autism Awareness Centre's mission is to ensure our extensive autism resource selection features the newest titles available in North America. Note that the information contained on this web site should not be used as a substitute for medical care and advice.