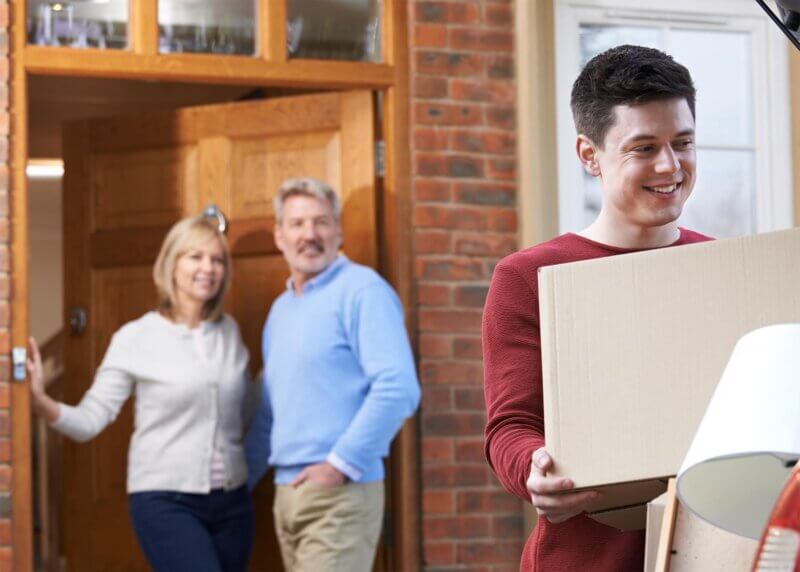 Transitioning from the Family Home
Leaving the family home to a place of one's own is a major life transition. It requires planning, preparation, supports, and guidance. This process can't be rushed as there are many aspects to consider. Attitudes have shifted around the right age to move out because the cost of housing and affordability have risen dramatically. Some families are considering multi-generational living for this reason. Staffing is also a consideration because there are labor shortages in the area of home care and supports.
The reasons for moving out are varied too – maybe the young person is off to college, has a job further away from home, or they are ready to be in their own space with support. Whatever the reason, there are several things to think about when planning this transition.
Living Skills
There are a number of living skills to think about in order for independent/supported living to be successful. They are:
Managing money – How will the bills be paid such as rent, utilities, insurance, food etc. If the autistic person does not earn enough money or is unable to work, what income supports are in place? Can they follow a budget?
Routines – Daily living routines such as bedtime, mealtimes, exercise, and personal hygiene will need to be established.
Nutrition/Eating – Can the person put together and cook balanced meals? Do they know how to shop for groceries, make a shopping list?
Healthcare – Does the person know when they are sick and need to see a doctor? Can they book their own appointments and get to them? If they take medications, they will need to follow the protocols (how much to take and when or with food/water). Daily personal hygiene routines such as brushing teeth, showering, combing hair etc. will need to be in place. How to manage stress/anxiety and creating calming routines are an important part of mental health and well-being.
Chores – While housework tends not to be a favorite task for any of us, it still needs to be done. Routines and housework skills need to be taught in order to do laundry, vacuuming, dusting, taking out the garbage, recycling etc.
Self-Advocacy – Can a person get their needs met? They need to know how and when to ask questions, who to approach for help, when to give their opinion, and how to say no.
Personal Safety – Topics would include taking public transit, dealing with strangers, what to do in an emergency, going out at night, locking the doors, turning off appliances.
Managing Free Time – How will a person spend their free time? What activities could they do?
Some autistic individuals may be able to perform these skills all on their own while others may need to be taught these skills before they move out or require on-going support in order to complete them. Visual supports like checklists and task analysis for chores can help a person be successful in completing the necessary steps for the task. An older autistic woman that I used to work with in the UK told me she needed to have a visual checklist for doing laundry because she would often forget a step without the list.
Social Aspects
Moving away from one's family can be isolating. While autistic people do need alone time, they also need opportunities for social connections. These can be made by shared interests through leisure/recreational activities or volunteering. Some social skills to think and develop can be working in a group, making friends, asking for help, dealing with family relationships, communicating over the phone, conversing etc.
My two autistic adult children want to live together because they enjoy each other's company. Sharing accommodation or common living areas can be good ways to be around other people.
Preparing for the Move
Lauren Alex Hooper, autistic adult, shared some great tips for preparing for a move on her site called Finding Hope. Here is Lauren's list.
Prepare for the emotions around moving out – Moving is a huge life change for everyone – parents, siblings, as well as the autistic person. The process can be stressful and exhausting. I can only imagine how teary I will be when my two leave.
Allow for lots of time to pack – Packing up one's things, decluttering, and deciding what to pack takes planning and patience. Allow lots of time to get organized.
Label what's in the boxes – Be more specific than just the room it's destined for. A list of the contents will take the guesswork out of where things are and reduce stress.
Pack of suitcase of essentials – Since it can take several days to get all of the boxes unpacked, having a suitcase with essentials such as clothes, personal hygiene items, medications and anything else a person needs right away to be comfortable will make things much simpler and less stressful.
Create a calm, safe, space – There will be a few days of unavoidable chaos in the new place so try and get one room or area neat and tidy to decompress and recharge in.
Get the food in fridge – Make a note or reminder alert to get food in the fridge right away before it spoils. It's easy to forget about with all the other things that need unpacking.
Planning the Actual Move
Lauren created a list of questions to ask which I think are applicable to anyone who is moving.
How much help is needed? Do we need to call on family, friends, a moving company or a combination of both?
Does the autistic person need to be there? Some individuals will find it too stressful to see their things being boxed up and moved out. It may be too emotional. For others, it may help to say goodbye to a space.
How much change does a person want? Some people will want things as near to the same as possible such as where their furniture was placed at home. They may want the same wall color, pictures hanging in the same location etc. Others may want to start anew if they are leaving an unhappy situation.
Does the person need closure? If the family is remaining in the home, the adult child's room is going to look different when they visit. If the family is moving, a person may need to say goodbye to that home especially if they were were for a long time. Lauren took pictures of herself in her room and then wrote a letter to the future resident and left it under the floorboards. Everyone's process will be different.
How can you create predictability? Autistic people need life to be as predictable as possible. Allow for lots of time to transition for a move, give as much information as possible, visit the new place even if you can't get inside, and see if you can share interior pictures even if it's from the relator's or rental agency's website.
Moving can be a very overwhelming process. Talk to other people who have done it and get their opinions and advice. Consider asking for support from your local autism society to see if they have materials or toolkits around housing. Access articles or webinars on this topic to gain an understanding of everything involved. Preparation, planning and information will help ease the stress of this major life transition.
Resources
Transitioning Out of the Family Home – 1 hour free webinar
Finding the Right Housing Toolkit
Aide Canada's Housing Topic Portal
Dealing with change
Is your autistic child ready to move out?
Is your autistic adult child ready to move out?
Moving to a New Place – first person account
Moving While Autistic – first person viewpoint
Editorial Policy: Autism Awareness Centre believes that education is the key to success in assisting individuals who have autism and related disorders. Autism Awareness Centre's mission is to ensure our extensive autism resource selection features the newest titles available in North America. Note that the information contained on this web site should not be used as a substitute for medical care and advice.